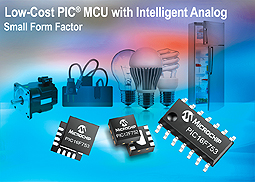 Microchip announces the an expansion to the PIC16F75X family of 8-bit microcontrollers (MCUs) featuring intelligent analogue and core-independent peripherals, making them ideal for general-purpose applications, as well as power supplies, battery charging, LED lighting, power management and power control/smart energy applications. The new PIC16F753 MCU builds on the success of the popular PIC12F752.
The PIC16F753 offers all the key features of the PIC12F752, such as the integrated Complementary Output Generator (COG) peripheral that provides non-overlapping, complementary waveforms for inputs such as comparators and Pulse Width Modulation (PWM) peripherals, while enabling dead-band control, auto shutdown, auto reset, phase control and blanking control.
Additionally, the PIC16F753 offers an Op Amp with 3 MHz of Gain Bandwidth Product (GBWP), and a slope compensation circuit to help in Switch Mode Power Supply (SMPS) applications. The new also MCU features 3.5 KB of self read-write programme memory, 128B of RAM, an on-chip 10-bit ADC, 9-bit DAC, capture/compare PWM modules, high-performance comparators, and two 50 mA-capable I/Os, enabling engineers to increase overall system capabilities and reduce costs.
View a brief presentation here: www.microchip.com/get/AM5D
The PIC16F753 MCU enables efficient power conversion for applications such as LED lighting and power control. It also provides a versatile platform for incorporating intelligence into numerous automotive, consumer, commercial or industrial applications, where it enables a smart system infrastructure with increased efficiencies, reduced costs and an enhanced user experience.
The PIC16F753 is supported by Microchip's standard suite of world-class development tools, including the PICDEM™ Lab Development Kit (DM163045) priced at $134.99; the PICkit™ 3 (PG164130) at $44.95; and the PICkit Low Pin-Count Demo Board (DM164130-9) at $25.99. A free reference design for a high-power LED flashlight is available for this product.
MICROCHIP TECHNOLOGY
www.microchip.com/get/6TM0