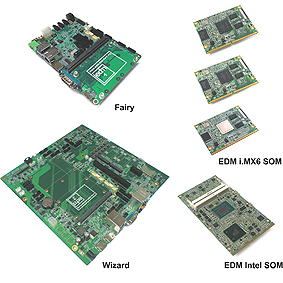 TechNexion's range of ARM and x86 boards and modules covers a broad range of customer requirements in the embedded and industrial markets
Future Electronics announced that it has signed a worldwide franchise distribution agreement with embedded System-on-Module manufacturer TechNexion.
TechNexion manufacturers a wide range of embedded boards and System-on-Modules (SOM) featuring ARM-based processors from Texas Instruments, Freescale, and x86 processors from Intel. The company also supplies complete embedded systems, and touch-interface panel PCs and fanless systems.
For design engineers TechNexion provides ease to use development kits that include tested and verified versions of Linux and Android operating systems and Windows Embedded. This together with detailed high quality documentation, and hardware / software implementation examples assist engineers to quickly validate and implement the latest technology in their end equipment.
TechNexion's commitment to technology development on behalf of the embedded design community has resulted in the introduction of the EDM standard, an open-source hardware and software interface between a system-on-module (SOM) board and a carrier board. This is the first standard interface to provide pin-to-pin and software compatibility between ARM and x86 SOM embedded modules.
TechNexion
www.technexion.com
Future Electronics
www.FutureElectronics.com