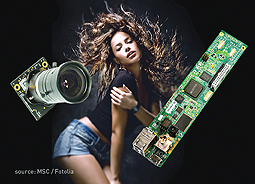 MSC and Helion are jointly organizing one-day seminars for easy entry into the universal Video Camera Development Kit HDR-60.
With the modular HDR-60 Ecosystem camera prototypes can be realized quicker, easier and cheaper. The reference designs provided by Helion together with the preset image processing blocks make it easier for the developer to process the raw sensor data into a finished image. Own development ideas can be implemented in the used Lattice FPGA.
At the seminar, different image sensors are introduced in their specific application areas. The advantage of the HDR Eco­systems 60 is that only the so-called IP Sensorport must be adapted to the sensor. After that, all other IP cores from the Color Pipeline can be used and be adapted to the users application by software. This design flow is shown at the seminar.
The seminars are held at the following dates and locations:
• 11.6.2013 Munich
• 12.6.2013 Stuttgart
• 13.6.2013 Wiesbaden
• 18.6.2013 Duisburg
• 08.8.2013 Berlin
The seminars will be held from 9:30 a.m. till 5:30 p.m. and cost 69€ plus VAT (including presentation documents and lunch). Partici­pants preserve special conditions for the HDR-60 Video Camera Development Kit.
The seminars are held in German with English-speaking films. Expert speakers from Helion, MSC as well as from ON Semi and Lattice are available for discussions.
If you are interested in this compact information seminar you can register online at www.msc-ge.com/lattice-seminare
MSC Vertriebs GmbH
www.msc-ge.com