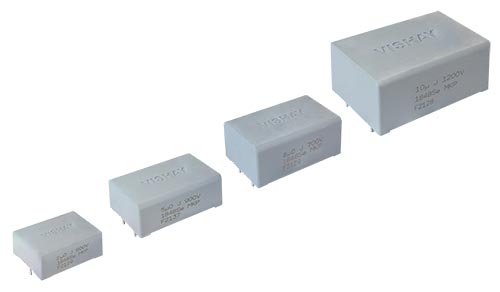 With the MKP1848Se low-profile DC-Link polypropylene film capacitor from Vishay Intertechnology, Rutronik's portfolio includes a component that is the first of its kind to pass the THB ("Temperature Humidity Bias") test at 60 °C / 93 % rel. humidity and nominal voltage for 56 days. AEC-Q200 qualified and designed for DC link applications, the MKP1848Se is primarily intended for automotive power electronics applications in humid environments. However, due to its particularly space-saving design combined with high performance and reliability, applications in the industrial and renewable energy sectors are also possible. The capacitor, as well as other products from Vishay Intertechnology, are available at www.rutronik24.com.
The MKP1848Se capacitors cover a capacitance range from 1 µF to 75 µF. They impress with low ESL and ESR values (from 3 mOhm). Naturally, RoHS-compliant, they offer a high ripple current capability of up to 27 A. The components are available with rated voltages of 500 VDC, 700 VDC, 900 VDC and 1200 VDC at +85 °C, as well as 2-pin, 4-pin or 6-pin versions; customization is also possible.
Available in 12 standard sizes with low profile heights of 12 mm, 15 mm, 18 mm and 24 mm, the radially wired capacitor is ideal for space-constrained automotive power electronics applications such as HVAC systems, on-board and inductive battery charging systems as well as DC/DC-converter for electric (EV) and plug-in hybrid electric vehicles (PHEV). However, it is also used in industrial environments due to its robustness in applications such as uninterruptible power supply (UPS), motor drives, wall chargers or inverters for solar systems and welding applications.
For more information about the MKP1848Se capacitors from Vishay Intertechnology and a direct ordering option, please visit our e-commerce platform at www.rutronik24.com.