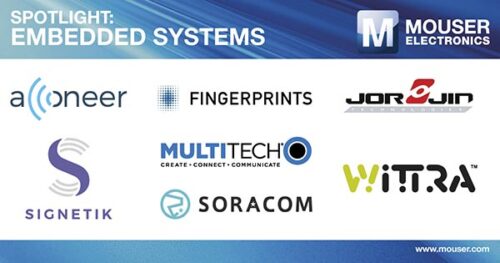 Mouser Electronics, Inc., the industry's leading New Product Introduction (NPI) distributor with the widest selection of semiconductors and electronic components™, added several notable manufacturers of embedded systems and modules to its portfolio of over 1,200 industry-leading brands over the past 24 months.
Some of Mouser's newest embedded manufacturers and product highlights include:
Soracom develops a range of products to enable IoT wireless connectivity. Examples include a battery-powered LTE wireless button, and a Raspberry-Pi-based IoT Starter kit. The kit incorporates an ultrasonic range finder module and permits real-time transfer of data to the Soracom cloud-based User Console for analysis.
Multitech provides a broad range of sensors and data communication equipment for industrial internet of things (IIoT) deployments. Products include the Multitech LoRaWAN wireless IoT sensor that is designed for long-range and extended battery life applications, and the MultiTech wireless single push button sensor that connects to a LoRaWAN network and is ideal for lone worker, customer call and panic alarm applications.
Wittra develops sensor tags, gateways, and routers for IoT-based asset tracking applications. Wittra's IOT OUT OF THE BOX Development kit, provides a complete development and prototyping kit to monitor objects and assets. The kit comprises an Ethernet to Cloud gateway, three mesh network routers, and four IP-67 rated sensor tags. The tags monitor asset location, movement, usage, and temperature. All software, APIs, and access to Wittra's Cloud Service is included, providing a easy to deploy approach to asset tracking.
Acconeer designs and manufactures power efficient high precision 3D sensor modules for computer vision, AR/VR, human interaction, and IoT use cases. Products include the Acconeer XM112 Pulsed Coherent Radar module, available to order, and the Acconeer XM122 IoT module. Both modules integrate Acconeer's A111 60 GHz pulsed coherent radar sensor, RF front-end, and baseband functions in a single antenna-in-package form-factor.
Jorjin offers a line-up of wireless modules, application processors, and mmWave radar sensors. Examples include the Jorjin MM5D91-00, a 60 GHz mmWave radar module comprising a single transmit antenna and three receiver antennas and an Arm Cortex-M4F core, and the Jorjin MM5D91E00, a break-out board evaluation board for the MM5D91-00 mmWave radar module.
Fingerprints designs biometric fingerprint solutions for access control systems, point of sale terminals, time and attendance systems, and door locks. The Fingerprints FPC BM-Lite module is a complete out-of-the-box module for biometric fingerprint security applications designed for connection to a host embedded system via SPI or UART. The robust capacitive sensor is waterproof and protected against 1.5 kV ESD. Its low power consumption makes it ideal for battery powered use cases.
Signetik develops wireless connectivity modules and gateways using transceiver SoCs from Semtech and Nordic Semiconductor. Examples include the Signetik SigLRN, available to order. This LoRa end node module with Bluetooth connectivity features integrated antennas and the companion Signetik LRN-R1 development board.
To see the full list of embedded devices stocked by Mouser, visit https://eu.mouser.com/c/embedded-solutions/.