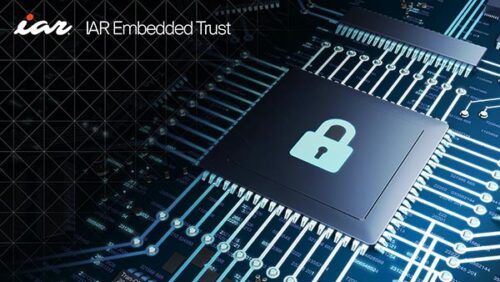 IAR, the world leader in software and services for embedded development, is announcing today the launch of IAR Embedded Trust – the most robust end-to-end security workflow in the embedded industry. With this latest release, IAR delivers on its promise of "Security Made Simple" by helping customers manage, prioritize, and mitigate potential security problems quickly and easily.
IAR Embedded Trust protects customers' data and devices through 4 A's: "Anti-cloning" introduces the concept of unique identification for software applications and device hardware, which prevents counterfeits and over-production in manufacturing; "Active IP protection" with its secure key management ensures applications only run on authorized devices and only after a successful Secure Boot process, "Anti-rollback" includes software update processes and checks that are in place to protect against roll-back attacks and versioning exploits; and "Authentication" with a cryptographic assurance of a device's identity, its protected data and secrets, and running of only genuine firmware and updates, all based on a trust anchor established in every device which cannot be undermined.
This means customers can design security from the beginning of their product development through to volume manufacturing with unique device provisioning. IAR Embedded Trust is a device-agnostic security solution that allows customers to easily port their current design to a new microcontroller. This helps to shorten development time, as does the reuse of code without starting from scratch while adding powerful security features to the application.
"With this new solution, we massively enhance our product offering and help our customers to master their security challenges and prepare for pending legislations in these areas," said Tim Woodruff, Deputy General Manager for IAR Embedded Security. "IAR Embedded Trust features advanced capabilities and pushes the boundaries of innovation while addressing security vulnerabilities in product development processes and embedded technology worldwide. It helps developers enhance their security operations and building protection from the product design phase to prevent IP and unauthorized over-production by third-party contract manufacturers. All our efforts aim to ensure that developers can take advantage of Security Made Simple when using IAR Embedded Trust."
Please visit the IAR Embedded Trust product page to learn more.