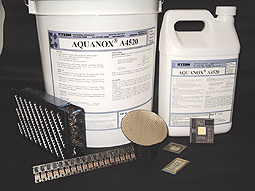 Kyzen, a world leading provider of environmentally responsible precision cleaning products for electronics and high-technology manufacturing operations, will feature the proven technology of its AQUANOX® A4520 in Booth #6180 in the North Hall at the upcoming SEMICON West, scheduled to take place July 12-14, 2011 at the Moscone Center in San Francisco.
A4520 is a highly tested aqueous cleaner for flip chips and advanced packaging that has proven to be effective on all lead-free, no-clean and eutectic materials when run at low temperatures and low concentrations. Easy to use, it is effective without the use of sump-side additives and provides brilliant joints. A4520 is used widely in military applications or anywhere a robust cleaner is needed for the harder to clean fluxes.
Additionally, A4520 features a long bath life, is RoHS compliant, contains no CFCs or HAPs, and is a biodegradable aqueous solution. The cleaning chemistry can clean numerous soils including lead-free flux, tacky flux, reflowed paste, no-clean flux, RMA flux, OA paste, oils, fingerprints, light oxides and polymerized soils. This best-in-class cleaning chemistry provides the lowest cost of ownership technology in the industry, while exceeding industry standards for people and environmental safety.
Kyzen
www.kyzen.com