Kontron introduced its brand new, ultra low-power SMARC Computer-on-Modules with Intel Atom processor E3800 series – the world's first x86 SoC processor to become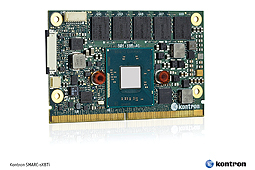 available on this low-profile mini-computer form factor (82 mm x 50 mm). The new Kontron SMARC-sXBTi Computer-on-Modules offer excellent graphics, high processor performance and x86 compatibility on the smallest SMARC footprint combined with very low power consumption (5 to 10 watts). Both the flat profile of the module and its mobile feature set are tailored for smallest portable handheld devices. The modules can, however, be deployed in any application where power consumption has to be kept at just a few watts but high-level computing and graphics performance are required.
For the SMARC Computer-on-Module standard, which was primarily developed for performance and interfaces of the new tablet PC processors, to date only ARM processors could be made available, so this launch opens up completely new perspectives for developers in terms of the form factor's scalability as well as in terms of software re-use and compatibility.
The Kontron SMARC-sXBTi
The new Kontron SMARC-sXBTi Computer-on-Modules have been developed to comply with the SGET specification and are equipped with Intel Atom processor E3800 series and up to 8 GB RAM, optional with ECC. They support the extended temperature range of -40°C to +85°C, measure only 82mm x 50mm and have an especially low-profile design thanks to the use of edge card connectors. Nevertheless, there is still enough space for up a 64GB on-board SSD to store OS and application data. A highlight of the pin-out is the mobile feature set with 3 UARTs with complete function range also for, e.g., GPS as well as support of the MIPI-compliant serial camera interface (MIPI CSI = Mobile Industry Processor Interface Camera Serial Interface). The powerful Intel Gen 7 Graphics are carried out via HDMI 1.4 and LVDS (optional eDP) with up to 2560×1600 and 60 Hz to the display. Further interfaces include 1x GbE LAN via Intel Ethernet Controller I210, 1x USB 3.0 and 2x USB 2.0, amongst others. Customer-specific extensions can be implemented via 2 SDIO and 3 PCIe x1 lanes with 5GT/s. For further features and interface details as well as information on availability see the Kontron SMARC-sXBTi product website.
Kontron
www.kontron.com