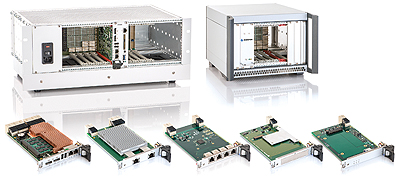 At Embedded World 2013, Kontron will be strongly reaffirming its intentions to be part of the further advances of CompactPCI Serial. The company will be exhibiting five new boards and several already pre-integrated sample configurations for this relatively new standard. Services for system-integration and migration will complete its range of exhibits.
The CPCI-S.0 specification, which was officially adopted nearly two years ago, has aroused considerable interest in the industry. This is in particular because of the fact that CompactPCI has the highest acceptance of all of the market segments for industrial computers. However, larger OEM customers have delayed risking making the change-over. Support from global manufacturers of embedded computer technology has actually been lacking up until recently. Kontron is now changing this with the official announcement on supporting the PICMG specification CPCI-S.0.
The CompactPCI Serial standard is a further development of the existing PICMG 2.0-specifikation, which is characterized by serial communication over the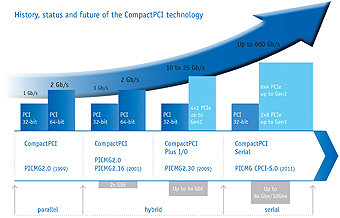 backplane. Amongst item supported our extension cards which can be connected either via Ethernet, PCI Express, SATA or USB. Any combinations of such cards are pluggable into specification-conforming system housings, whereby up to 8 of these can be supported. Solutions with a significantly greater number of extension cards are also realizable using matching bridges.
Focusing on high-performance systems
This high degree of design flexibility enables significantly differing system-configurations to be realized such as:
• Scalable multi-processor systems and CPU-clusters via PCIe or Ethernet,
• RAID systems, with up to 8 SATA lanes for SATA-hard disk-shuttles, for example for data recording of video monitoring systems,
• NAS-systems for data access from Cloud, which are realized via a mix of Ethernet-net-worked CPO units and SATA-hard disk shuttles,
• Multi-monitoring systems for controlling up to 32 displays e.g. for Infotainment, Digital Signage and control rooms,
• Flexible wireless configurations with WLAN, UMTS, HDSPA, LTE and GSM on up to 8 carrier cards, each having two radio modules.
Even mixed solutions which also furthermore support PCI are possible. All system designs are characterized by a particularly high performance capability in a modular construction without cables. It is for example possible with CPCI-S.0 to transfer several gigabytes per second of data. By way of comparison: the highest possible data throughput via a parallel 32 bit/66 MHz PCI-interface in CompactPCI is 0.264 GB/s. This enormous increase in bandwidths therefore opens new possibilities which can also be immediately exploited.
Standardized module
OEM and end-users can take advantage of the modular approach: an individual high-performance system is composed of a large fund of standardized modules.
Even with a good overall system further integration themes, in so doing, the development time is comparatively short and the reliability and quality extremely high. In addition, the support of Hot-Swap and redundancy is advantageous for system availability.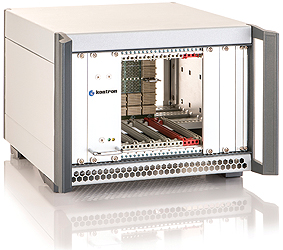 Thanks to a sturdy mechanical system, CompactPCI Serial is also suitable for industrial applications as well as for use in railway, air travel and military applications. Central systems capable of the highest performance become possible and these can, for example, as need be, takeover the control of complete production lines. The high flexibility in system design enables systems, once they have been set up to be upgraded later in more or less any conceivable direction which makes the investments particularly future-proof.
Single source mechanism
The migration from CompactPCI over to CompactPCI Serial is in no way a piece of witchcraft from the mechanical point of view as apart from the new connector on the backplane and the boards the fully proven mechanics of CompactPCI are retained.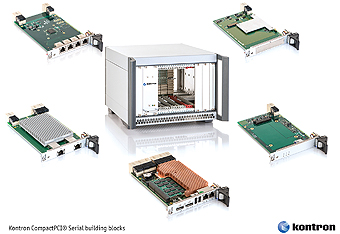 Existing system installations can be retained within the same space and received an enormous boost in performance.
Kontron to promote openness
Developers of CompactPCI Serial-based systems benefit in addition from the optimization of the interoperability of the standard: there should be significantly more pins with fixed assignments for the serial connections than is the case in the existing standard with just 12 usable connectors. For this reason Kontron has decided to further promote openness and with that exchange ability among different manufacturers with the support of the CPCI-S.0-specification.
What is more, Kontron will be actively involved in the future in further rounding-off of the specification within the PICMG Group.
First customers ready for the migration
The first customers from the field of production machines in the metal-processing industry and in the sector of image-processing have already announced that they wish to migrate their systems over to the new specification. Further conceivable application fields are in the Infotainment and train safety fields.
Boards or systems?
In parallel with the announcement of the support of CPCI-S.0, Kontron is also introducing several boards Amongst these are the CPS3003-SA processor board, the CPS3101 hard disk carrier, the CPS3105 XMC-carrier and theCPS53402 network cards with two GbE interfaces and CPS3410 with four 1 GbE interfaces. But Kontron is not only making these boards available as standard products.
There are complete system integrations that can be supplied. This enables the application developer's activities to be limited to the specification of the hardware requirements.
The modular system will be supplied if need be fully integrated – including all of the necessary drivers. As far as the chassis is concerned, Kontron uses for example systems supplied by Schroff or it develops tailor-made individual designs.
CompactPCI Serial new releases
No matter whether the performance package consists of boards or systems, the functions and interfaces of the CompactPCI Serial designs will be characterized by the functions of the individual boards.
In addition to hard disk carrier's and network cards, note should above all, be taken of Kontron's first processor board. The CPS3003-SA processor board is equipped with the highest performance-capable Intel core i7 processors of the third-generation as well as the Mobile Intel® QM77 Express PCH.
Customers and make use of different versions from the power loss-optimized 1.7GHz Dual-Core version of the 2.1GHz Quad-Core for the highest performance requirements.
The CPS3003-SA offers in addition, an even wider advantage as it enables hybrid system designs to be implemented together with the classic CompactPCI. Users can relatively easily transfer their systems into a serial world without having to take existing CompactPCI peripheral cards out of service.
Equally attractive is the new CompactPCI Serial carrier for XMC modules, which enables developers to fall back on the complete range of industrial XMC-cards. There is an XMC Module for graphic or image processing, applications, various Legacy I/Os, field buses and specific industrial Ethernet versions or even FPGA-based solutions. This diversity and flexibility also makes possible the highest application-specific high-performance systems by implementing standard components that are already on the market.
Kontron 6U CompactPCI® with 10 GbE system throughput
Performance increases for data-intensive, high-performance applications.
As part of its 'High-Speed CompactPCI® Initiative', Kontron launched also the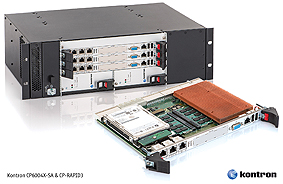 world's first 6U CompactPCI® Serial Mesh 10 Gigabit Ethernet processor board together with a compliant chassis. For the first time, a CompactPCI® system supports 10 Gigabit Ethernet and PCIe over backplane in addition to the common interfaces such as PICMG® 2.16, SATA and HDMI.
The Kontron CompactPCI® processor board CP6004X-SA is based on the latest generation Quad-Core Intel® Core™ processor and offers high computing power and performance-per-watt, which really comes into its own in the CP-RAPID3 chassis with full-mesh fabric configuration. Some applications for the new modular CompactPCI® Serial Mesh (based on PICMG® 2.20) systems are in high availability telecommunications and datacommunications systems for carriers and also with government and security companies. Applications include secure wireless systems, radar and sonar applications, and complex computational algorithms such as imaging processing. Now, even with smaller space requirements, existing system installations are provided with a significant increase in data throughput when new long-term generation systems are being developed which, in the future, could be scaled up to 40 GbE.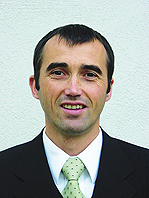 www.kontron.com
Author:
Peter Ahne is Product Marketing Manager for Kontron and based in Kaufbeuren.