Kontron, a global leader in IoT/Embedded Computing Technology (ECT), presents the K9051-C741 ATX server class motherboard. Designed to support Intel® 4th/5th generation Xeon scalable processors, this long-life cycle motherboard sets a new standard in high-performance computing. With the Intel® C741 chipset, Intel LGA4677 socket processors featuring a maximum TDP of 350W and maximum 768GB memory, it delivers exceptional processing power and efficiency, effortlessly handling even the most demanding applications.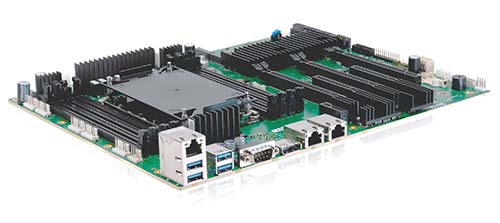 The K9051-C741 ATX motherboard showcases Kontron's commitment to delivering cutting edge embedded computing solutions. With processors up to 64 cores supported and eight independent memory channels, it excels in memory intensive applications requiring a 24/7 operating environment. The server class motherboard's versatility and expandability, including memory, GPU, storage, and five PCIe Gen 5 expansion slots, offer unmatched flexibility.
This high performance product caters to industries such as industrial, imaging, medical, AI, and advanced robotics. It addresses the need for powerful compute platforms with high processor core counts and high memory throughput requirements.
The Kontron K9051-C741 ATX motherboard stands out with its support for DDR5 memory, offering speeds of up to 5600 MT/s RDIMM and 768GB. Users can optimize their system's performance and efficiently handle data-intensive tasks with memory density options ranging from 16GB to 96GB for each of the eight channels. To facilitate seamless expansion, the motherboard features five PCIe Gen 5 expansion slots, providing ample room for additional hardware components and future upgrades. This ensures scalability and adaptability as computing requirements evolve.
Its robust construction and advanced thermal management guarantee stability and reliability even under challenging conditions. Additionally, board management and monitoring are facilitated through the integration of OpenBMC, enabling efficient system management and maintenance.