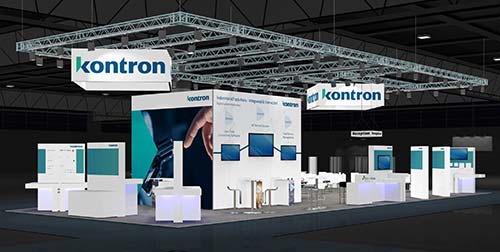 Kontron, a leading global provider of IoT/Embedded Computer Technology (ECT), will showcase integrated Industry 4.0 and IIoT solutions at the Smart Production Solutions 2023 in Nuremberg from 14 to 16 November. The main focus of the presentation in hall 7, booth 193 is on the synergy between hardware, software and the supporting system consulting provided by Kontron as a comprehensive solution portfolio.
Experience IIoT through a live demonstration at the Kontron booth
This year Kontron will be displaying an IIoT network in the form of innovatively networked computer systems. As an example, refrigerators are equipped with sensors to record and monitor key parameters in real time. System monitoring and data acquisition are carried out using secured Arm® and x86 systems with the KontronOS operating system in conjunction with the EquipmentCloud® digitalization solution. This allows easy monitoring of machine conditions, maintenance scheduling, software updates or remote access to machines. As an end-to-end solution, this live demonstration impressively illustrates the integration of hardware, software and competent system consulting offered by Kontron.
Update for the Kontron susietec® KontronOS and Connect IoT bundle
The Kontron susietec® toolset enables companies to implement holistic digitalisation solutions. With KontronOS, a secure industrial IoT-to-cloud operating system based on Linux® for networked systems is provided, which is available as standard on Arm® (AL i.MX8M Mini) and Intel® basis (KBox A-250). It provides protection against compromises and external access to the corporate network as well as uncontrolled updates. The automated update process ensures that the system is always up-to-date. Particularly with large device fleets, it makes sure that all devices in the field are at the same update level despite different schedules and threat scenarios.
Also on show at SPS is the new release of the Connect IoT bundle, which offers an extended range of versatile functions for machine manufacturers and operators. The bundle combines the powerful KBox A-250 industrial computer platform with the low-code interface integration solution FabEagle®Connect. The new version 3.1 integrates data interfaces to the SQL databases Firebird, Microsoft SQL, MySQL, Oracle, PostgreSQL as well as SQLite and simplifies the possibilities for edge data processing through C# code components. A filterable message monitor facilitates diagnosis during configuration and operation. From the end of 2023, the cost-optimised KBox A-250 will also be optionally delivered with pre-installed FabEagle®Connect to enable a quick start to network installations.
High-performance industrial PCs for Industrial IoT and AI
Kontron wil be presenting industrial computers in box PC format and as rackmount or workstation versions with powerful Intel® Core™ i processors of the 13th generation for computation-intensive applications as well as industrial-grade panel PCs and monitors for demanding control and visualization tasks. The product range for the Smart Factory is made complete by Smart technologies as well as scalable solutions and comprehensive services based on Time Sensitive Networking (TSN) and Artificial Intelligence (AI) for intelligent edge computing, convergent networks and workload consolidation.
Performant motherboards offering a high degree of scalability
The compact K3921-N mSTX motherboard, equipped with powerful Intel® Core™ i3 processors and Intel® N-series processors (Alder Lake N), is "Made in Germany" and impresses with outstanding performance in a handy mini-STX format. This versatile board supports up to three independent displays with 4K resolution and is ideal for use in industrial automation, medicine, digital signage, KIOSK, POS/POI and casino gaming. The matching SMARTCASE™ S501 is also available.
High-Performance Computer-on-Modules: Maximum flexibility for edge applications
Kontron offers the latest 13th generation Intel® Core™ Mobile processors on all COM Express® form factors and the high-performance COM-HPC® client modules. Particularly noteworthy here is the COM Express® mini series as an extremely robust and space-saving platform based on Intel® Core™ technology for the first time. An application-ready package consisting of a COM-HPC server module, board management controller and carrier board enables rapid implementation of the final solution. The right module can be selected for the requirements of the individual IIot application from the wide range of COMs in different performance levels and functionality.
Web Panels for industrial applications
Kontron will be expanding its HMI portfolio with a new web panel series based on Arm® NXP i.MX8M Plus processors. These panels are ideal for device and machine visualization as well as facility automation. They come in a range of display sizes (5", 7″, 10.1″ and 15.6″) and provide enhanced graphics performance, PoE capability and advanced connectivity. With the help of the integrated QIWI software toolkit, the configuration and parameterization of the device settings and browser properties are simplified significantly. The panels are ideally suited for use in industrial environments and ensure long-term availability as well as first-class technical support.
Save the Date: Kontron's press conference will take place on Tuesday, November 14 at 11:30 am in the room "Kiev" in NCC East. Also on Tuesday, 14 November from 09:30 – approx. 10:30, Kontron will be hosting a guided tour of the exhibition booth for the trade press. The invitation will follow shortly.