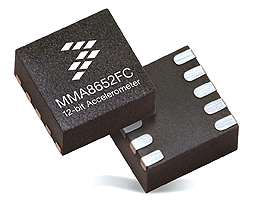 Mouser Electronics, Inc. announces the availability of all elements of Freescale's Xtrinsic eCompass solution, which includes MMA865x 3-axis accelerometers and MAG3110 3-axis magnetometers. Both devices combine ultra-small form factor in 2 × 2mm package size with exceptional performance. At 1mm height, the MMA865x accelerometers have a 56 percent smaller volume than previous Freescale accelerometers, making them ideal for low-profile, space-conscious applications. The MMA865X Xtrinsic 10 or 12-bit digital accelerometers offer low-power, low-noise and optimized overall system power consumption to enable a best-in-class performance range. To learn more about the MMA865x, visit www.mouser.com/freescale-mma865x.
The MAG3110 is a small, low-power digital 3-D magnetic sensor with a wide dynamic range to allow operation in PCBs with high extraneous magnetic fields. It measures the three components of the local magnetic field, which will be the sum of the geomagnetic field and the magnetic field created by components on the circuit board.To learn more about the MAG3110, visit www.mouser.com/freescalemag3110/
The Xtrinsic eCompass software is a sensor fusion solution that works with Freescale's accelerometers and magnetometers to produce orientation-independent accurate compass heading information. Awarded the 2012 Product of the Year from Hearst Electronic Products, designers can use the eCompass software to quickly solve their design challenges and employ highly accurate sensing technologies for a variety of mobile applications such as eHealth, location-based services, and 3D gaming.
Mouser Electronics
www.mouser.com