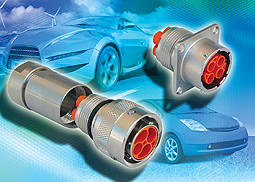 ITT Interconnect Solutions announced a new connector series developed to drive forward increased specifications in many new and future customer products. Trident High Voltage connectors are aimed at applications such as electric vehicles and industrial devices which require robust and secure interconnects able to handle high power and high voltage in a small form factor interconnect.
Based on ITT ICS's Trident Neptune connectors, the new Trident High Voltage series has a robust and shielded metal housing which is fully RoHS compliant, yet is 10% smaller than comparable interconnects, saving both space and weight. Trident High Voltage connectors feature a new insulator body design which enables them to cope with an operating voltage of 500V (AC and DC) and a maximum operating current of 34A (for wire size 4.0mm at 20degC). Safe and reliable, Trident High Voltage connectors are fully VDE certified with 6KV rated impulse voltage. When mated, they remain sealed in conformance with IP67 against dust and water ingress up to a depth of 1m.
Applications include hybrid and electric vehicles, construction vehicles, agricultural machinery, robotics and industrial automation.
ITT Corporation
www.itt.com