International Rectifier has launched the AUIRFN8459 and AUIRFN8458 40V automotive-qualified COOLiRFET™ power MOSFETs offering benchmark on-state resistance (RDS(on)) for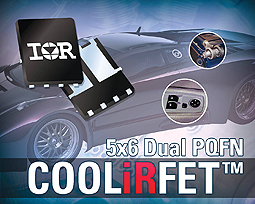 automotive applications requiring compact size and high current performance including pump motor control and automotive body control.
The AUIRFN8459 and AUIRFN8458 are the first in a family of automotive-qualified 5×6mm dual PQFN power MOSFETs based on IR's most advanced COOLiRFET™ 40V trench technology. The AUIRFN8459 achieves ultra-low 5.9mOhm Rds(on) per channel benchmark performance and 50A high current carrying capability.
The new 5×6mm dual PQFN COOLiRFET™ devices also offer a low thermal path to the PCB and significant thermal performance improvement compared to an SO-8 package to deliver higher efficiency, improved power density and overall system level cost savings.
IR's automotive MOSFETs are subject to dynamic and static part average testing combined with 100 percent automated wafer level visual inspection as part of IR's automotive quality initiative targeting zero defects. AEC-Q101 qualification requires that there is no more than a 20 percent change in Rds(on) after 1,000 temperature cycles of testing.
International Rectifier
www.irf.com