Toshiba Electronics Europe (TEE) has announced the availability of several new motor driver ICs that reflect the demand for compact design and quiet operation in applications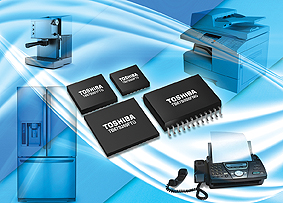 such as home appliances and office automation equipment.
The TB67S269FTG is a bipolar stepping motor driver that offers a high voltage of 50V and current of 2A. High speed, high capability motor drives are required in printers, office automation equipment, ATMs, amusement machines and home appliances. At the same time, customer requirements for more compact, stylishly designed equipment put pressure on manufacturers to reduce size wherever possible. This is combined with a need to reduce heat within the equipment. TB67S269FTG reduces heat and increases efficiency by increasing the switching speed and adopting Toshiba's ADMD motor driving technology. It has a low on resistance of 0.8Ω or less.
Toshiba Electronics Europe
www.toshiba-components.com