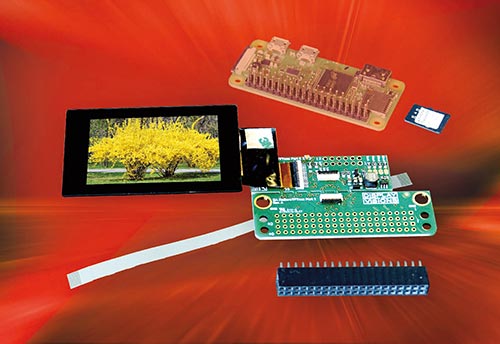 DISPLAY VISIONS allows for easy connection of small displays from 1.5″ directly to the Raspberry Pi Zero and the Raspberry Pi Zero 2. All monitor outputs from the small computer are automatically redirected to an high-quality industrial grade IPS display. Linux is used as an operating system.
As a result, individual, compact applications are also able to produce output on a small colour display. Furthermore, inputs are even possible, including through a touch panel integrated into the display. The programming language for applications is Python or C, as is typical for Raspberry.
To make it easy to get started, DISPLAY VISIONS offers a RaZeroTFT starter package. It consists of an interface board and a suitable 1.5″, 2″, 2.8″ or 3.5″ display. The displays are equipped with a capacitive touch panel, with the exception of the smallest display. At 1,000 cd/m², the displays are extremely bright and easy to read, even in sunlight. Thanks to IPS technology, they provide brilliant colours in all viewing directions. All displays can be installed horizontally or vertically.
An SD card with the appropriate files for the Raspberry Zero is also included in the scope of delivery. The displays are therefore ready to run immediately and start a slide show with drawing function for the touch panel after the Linux boot process. The background lighting can be dimmed as required.
The interface board can be separated into two parts, making it possible to later install the display a piece away from the Raspberry Zero in the application. The display and the Raspberry Zero are then connected to one another using a slim flex cable (127 mm long).