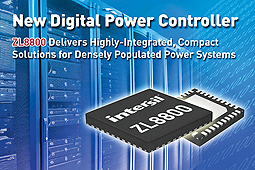 Intersil Corporation expanded its industry-leading family of power management ICs with a highly-integrated, innovative digital DC/DC power controller that reduces design risk, time, and cost for developers of complex power systems.
The ZL8800 is a Dual Channel/Dual Phase controller that utilizes a ChargeMode control loop technology to deliver fast transient response without the need for compensation, reducing design time. It provides best-in-class transient response for digital Point of Loads (POLs), saving on output capacitance and board space, important benefits for the advanced power systems found in the latest generation of base-stations, routers, and similar infrastructure designs.
These complex systems require designers to fully control and monitor every power rail in order to maximize reliability, and typically use monitors and sequencers to provide added functionality around the POL converters. The ZL8800 integrates all of these functions, so a designer can monitor and control every aspect of the power supply through a PMBus™ interface, without the need for additional parts.
Telemetric data is available on the power supply, including temperature, input current, output current, input voltage, output voltage and fault status. Each ZL8800 output can operate independently or together in a dual phase configuration for high current applications. The device supports a wide range of output voltages (0.54V to 5.5V) operating from input voltages from 4.5V up to 14V.
Intersil
www.intersil.com