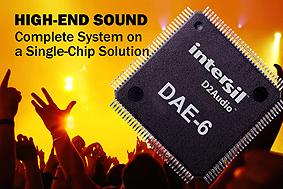 Intersil Corporation introduced the DAE-6(TM) family of single-chip audio system solutions that provide dramatically improved audio quality in consumer products. The new devices enable a revolutionary high-end audio experience in an easy-to-implement and affordable single-chip solution.
The Intersil D2Audio DAE-6 family provides a complete System-on-Chip (SoC) solution, including an integrated audio processor and multi-channel Class-D amplifier controller. By integrating a digital signal processor (DSP) with configurable audio processing algorithms, the DAE-6 provides audio system designers with an extremely flexible and feature-rich platform. This cost-effective solution meets the ever-increasing demands of consumer electronics applications such as portable music players, PC multimedia speakers, automotive sound systems and home theatre systems, including surround bars and home-theater-in-a-box systems (HTiB's).
"The new D2Audio solutions bring sound quality previously available only to the high-end, to the mass market, with no additional manufacturing costs. These D2Audio Class-D amplifiers rival or exceed the sonic quality of some of the most expensive discrete analog power amplifiers, with features far exceeding such costly devices," said Mark Levinson. "The DAE-6 family introduces an audio revolution in consumer electronics. With the DAE-6, we will see drastic, across-the-board improvement in sound from portable music players to TV soundbars."
The DAE-6 family features unique embedded mastering-level software, providing customers with precision audio tuning for any audio-enabled device. Including industry-leading D2Audio sample rate converters (SRCs) on each audio channel, the DAE-6 family supports a variety of multi-channel digital and analog inputs, including up to eight channels of asynchronous digital serial input. Multi-channel Class-D amplifier outputs can be configured for various power levels from 10W to more than 500W, and include complete fault protection with graceful automatic recovery, improving system performance without sacrificing power efficiency.
This new family of D2Audio products features discrete decoders for Dolby* Digital, DTS® Digital Entertainment and AAC encoded audio streams, captured via integrated S/PDIF receivers and followed by up to 12 channels of audio processing. This processing is configurable with multi-band parametric equalization, assignable filtering, reverb, matrix decoding and bass management. In addition, the DAE-6 family includes automatic algorithms for correcting room acoustic imperfections or performance anomalies in speaker drivers and enclosures.
Pin-compatible with the earlier DAE-3 series, the DAE-6 family gives product designers the flexibility to migrate an existing design without creating new printed circuit boards, or to create several performance options for tiered products using the same PCB and chassis. Its integrated topology includes full support for all standard surround-sound decoders (including Dolby Digital and DTS), as well as fully configurable and routable signal paths. Sample rates from 32kHz to 192kHz will accommodate any source from low-resolution compressed music downloads to home theatre systems to higher definition PCM outputs from Blu-ray players.
In addition to speaker-level outputs (supporting bridged, half-bridged or bridge-tied-load topologies), the DAE-6 solutions provide further design flexibility including line-level and headphone-level audio outputs, and systems configurable from 2-channel to 9.1-channel.
Audio Canvas(TM) III
The extended DSP programmability in the DAE-6 is enabled by a new release of the Audio Canvas(TM) control surface, significantly improving ease-of-use and configurability. Audio Canvas III enables designers to configure their own audio signal flows and define the peripheral interfaces of the DAE-6, as well as provide for programming and optimization of the final system solution with encryption available to ensure security and prevent reverse engineering.
Tuned by Audio Legend Mark Levinson
Among the new processing capabilities that will be enabled in the DAE-6 family are the proprietary "MightyCatTM" functions that are associated with Mr. Mark Levinson's system-level product tuning. These blocks will be available for custom tuning by Mark Levinson, with a subset of these algorithms also available for additional tuning by system designers.
Additional Information
For additional information on the DAE-6 product or Intersil D2Audio visit www.intersil.com/audio/DAE6.asp