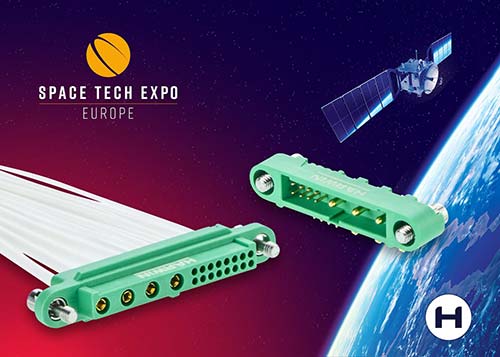 At this year's Space Tech Expo Europe, Harwin will showcase a comprehensive portfolio of advanced, high-performance, high-reliability connectors and associated technologies that meet the demanding challenges of systems designed for long-life operation in space.
Harwin's connectors address requirements for small-footprint, low-weight, robust interconnects that deliver high-performance operation at extreme temperatures, can withstand the vibration of lift-off, and that will operate reliably for many years in the vacuum of space. As well as standard products, Harwin provides custom prototypes and small production runs for cable assemblies to deliver complete interconnect solutions that are optimized for the target application.
"From small start-ups to international house-hold names, Harwin has significantly grown its base of space customers in recent years," says Ryan Smart, Harwin's Vice President of Product. " In particular, we have expanded our presence in the private industry, 'NewSpace' sector where the critical need for competitive advantage drives the choice of innovative, commercial technologies that are not necessarily formally certified to space-grade standards but that still deliver the performance, reliability, small size and low weight needed in space applications."  
Among the technologies on show at the Harwin booth (R10) at Space Tech Expo Europe will be the Gecko family of miniature, lightweight 1.25 mm pitch high-reliability, vibration- and shock-resistant connectors. These parts feature innovative fixing mechanisms for additional security of connection and provide low-profile, dual-row interconnects ideally suited for stacking and cable mating in areas where PCB real estate is at a premium. The family includes the Gecko-MT range, which combines signal and power capabilities to deliver the industry's smallest and lightest mixed technology interconnect solution. Both standard Gecko and Gecko-MT connectors offer excellent outgassing properties.
Combining an exhibition with conference sessions, Space Tech Expo Europe features over 550 exhibitors and more than 150 speakers and takes place in Bremen, Germany from 14th to 16th November. Throughout the event Harwin's team will be on hand to provide advice and guidance on choosing and specifying connectors and developing optimized cable assemblies for space-based designs.
To find out more about Space Tech Expo Europe visit: https://www.spacetechexpo-europe.com/.