In line with ever evolving customer requirements GCT, a leading provider of interconnection technologies, has expanded its range of White Lite LED lighting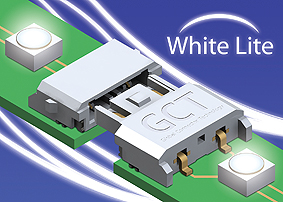 connectors. Engineered to be the perfect choice for LED strip light applications, the new BJ300 and 301 two position mating connector combinations offer reliable dual contact design. To speed up design download drawings, 3D models and specifications from the GCT website at www.gct.co
LED strip applications are usually low cost, consisting of small panels of LED lights clustered on PCB's. The PCB's snap together in co-planar orientation. GCT White Lite connectors fit perfectly with these applications as they're economically priced and fit onto small and thin PCBs, mated connector height is 2.6mm, with a total mated footprint of 8.80mm (width) × 11.00mm (depth).
A dual contact design including a mating guide offers high reliability and protects terminals during mating and un-mating. In addition the connectors are polarised – they may only be plugged together in the correct orientation. Connector pitch spacing is 4.00mm, with a current rating of 3A per contact at 300V and operating temperature of -55° to +105°C.
Global Connector Technology
www.gct.co