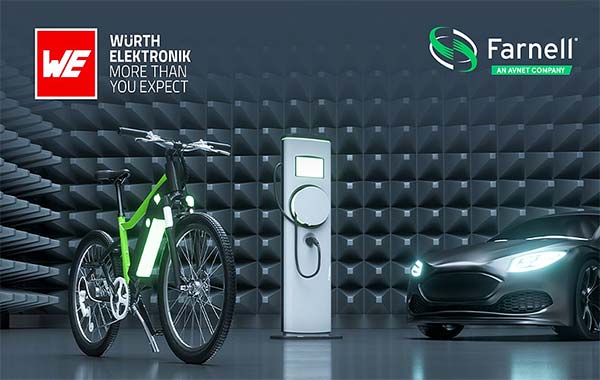 Farnell, an Avnet Company and global distributor of electronic components, products and solutions, has launched a new campaign in partnership with Würth Elektronik to support electric mobility (e-mobility) developers in their projects.
The rapid growth of the electric vehicle (EV) market is evidence of an irreversible shift to electric mobility. However, developers still face a range of electromagnetic compatibility (EMC) problems when designing e-mobility applications.
Farnell and Würth Elektronik have joined forces to provide a wide range of electronic components, expert knowledge and added-value services to help EV product developers overcome design challenges and achieve their goals.
Würth Elektronik's innovative products are designed to simplify the handling of the high currents found in charging and electric motor control. The company's advanced EMC solutions offer support for fast charging and increase product life, reducing electrical waste and helping to future-proof the EV market.
Farnell is now stocking a broad range of products from Würth Elektronik as part of the e-mobility campaign, including:
Simon Meadmore, Global Head of IP&E, at Farnell said: "We are very pleased to offer our customers a wide range of e-mobility solutions from Würth Elektronik. Our customers will benefit from their very wide product portfolio, in-stock availability, design-in support and other added-value services to accelerate time-to-market of superior end-products."
Lars Fahrbach, Vice President Global Distribution & New Markets at Wurth Elektronik said: "We take the noise out of e-mobility. Following this ethos, we have been transferring our comprehensive expertise in the EMC world to the future of mobility. We are proud to present our e-mobility portfolio in cooperation with our partner Farnell."
Würth Elektronik is one of Europe's largest manufacturers of passive components offering high quality products, design-in and technical support, logistics, and online tools such as the simulation platform REDEXPERT©. Key markets include industrial, white goods, brown goods, e-mobility, medical, automotive and telecommunications. The Würth product portfolio also includes electromechanical components, thermal management, power modules (MagI³C Series), wireless connectivity components, sensors and optoelectronic components.
Farnell offers an extensive range of products in its comprehensive interconnect, passive and electromechanical portfolio to support design, maintenance and repair engineers. Customers also have free access to online resources, datasheets, application notes, videos, webinars and 24/5 technical support.
Würth Elektronik's innovative products for e-mobility applications are available for fast delivery from Farnell in EMEA, element14 in APAC and Newark in North America.