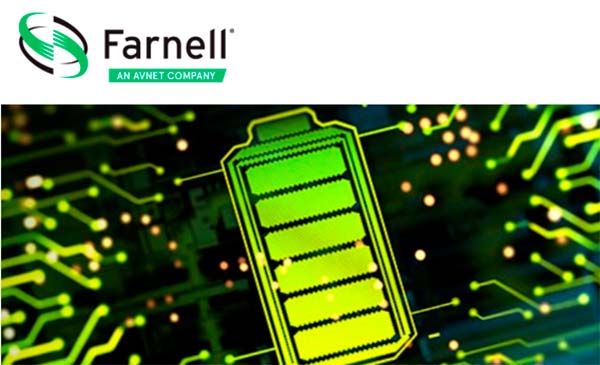 Farnell, an Avnet Company and global distributor of electronic components, products and solutions, has today launched the Boost Your Power campaign to provide a range of special offers and discounts on featured products from leading global test and measurement suppliers. Visitors to Farnell's website can also download a range of free online power management resources and enter a competition to win an Apple iPad Pro, Amazon vouchers worth £250 and much more.
Test and measurement equipment supports the design process, allowing engineers to check their designs are performing as intended. Farnell is promoting a combination of the bestselling and new-to-market products to help engineers quickly and easily find test and measurement solutions to meet their power needs. Featured products showcased as part of Farnell's Power Management Hub include:
The QPX750SP Bench Power Supply by Aim TTi features a single adjustable output rated up to 80 V and up to 50 A. Front and rear terminals make it suitable for bench or system use, while high setting resolution and metering down to 1mV ensures accurate measurement and ripple. At <3mV rms at full power, the noise level is very low. In addition, an analogue control interface connection to LAN/LXI, USB, RS232† and GPIB on P versions is possible.
The NGU401 Source Measure Unit from Rohde & Schwarz is perfect for challenging applications due to its extremely high accuracy and fast load recovery time. Data acquisition is performed rapidly with every detail detected down to 2 μs resolution. The NGU401 offers 4-quadrant architecture, 60 W output power and can function as both a source and sink to simulate batteries and loads. Customers are protected by a 3-year warranty as standard.
Farnell is also offering exclusive discounts and free product giveaways with selected test and measurement equipment, such as:
15% discount on the B&K Precision BK9833 Programmable AC Power Source: The low harmonic distortion meets the IEC 61000-3-2 standard and offers outputs of 300V/30A and 3000 VA, making it ideal for pre-compliance testing. A variety of power line disturbances can be simulated using pulse, step, and list modes using built-in or user-defined waveforms. Manual control is via numeric keypad, rotary knob, navigation keys, and a 4.3-inch colour LCD display which can display 12 measurements simultaneously. LAN, USB, GPIB and RS232 interfaces are built-in and control is possible from a standard web browser via integrated web server.
Exclusive saver bundles from Tektronix and Keithley Instruments: Choose from either the Advanced Power Applications bundle or the IoT Applications bundle featuring oscilloscopes, probes, power supplies, digital multimeters, source measure unit, supporting software and more, available exclusively from Farnell.
Keysight U1733C LCR meter for free with a purchase from a range of Keysight power products: The U1733C LCR device can operate at frequencies as high as 100 kHz and take fast measurements using the one-touch automatic identification function button which displays component type and more detailed analysis such as Z, ESR, and DCR. Customers can purchase selected Keysight products, including source measure units (SMUs), modular power systems, power analysers and power supplies, to access this offer.
In addition to the range of products on offer in the Boost Your Power campaign, customers can also enter the competition to win one of 20 prizes including an Apple iPad Pro, £250 Amazon gift card, discounts on selected Farnell test and measurement products and more.
The Power Management Hub provides extensive resources on featured test and measurement products, including oscilloscopes, probes, power analysers, bench power supplies, SMUs, DC loads and AC sources, as well as a selection of articles, brochures, guides, videos and on-demand webinars from Farnell's supplier partners. Customers are invited to download a free exclusive article titled 'Power Solutions in Test & Measurement' to learn about the core pieces of equipment required for testing in research, product development, prototyping, production, and field-testing applications.
James McGregor, Global Head of Test and Tools at Farnell, said: "Power management plays a major role in virtually every piece of electronic equipment. We are proud to bring a vast array of products from leading suppliers to support our customers in their power management processes. By supporting them further with free-to-download technical content and a range of great discounts to reduce the cost of their purchase, they are fully enabled to overcome any challenge."
Farnell offers a full range of market-leading test, tools and production supplies from stock to support electronic design and test, with no minimum order value and an educational discount programme. Customers have free access to online resources, data sheets, applications notes, videos and webinars with excellent customer and technical support available 24/5 in local language.
Customers can access featured products from market-leading suppliers including Tektronix, Keithley Instruments, Keysight Technologies, Rohde & Schwarz, Aim TTi, B&K Precision, Chauvin Arnoux, EA, GW Instek, Sefram and Sorensen. To find out more about how to Boost Your Power with Farnell, visit: uk.farnell.com/boost-your-power.