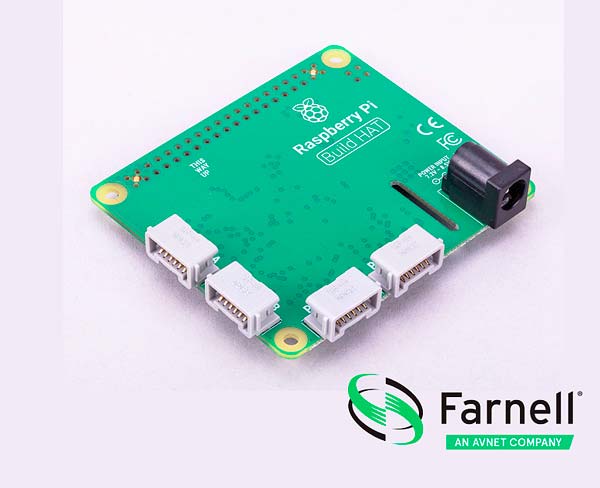 Farnell, an Avnet Company and global distributor of electronic components, products and solutions, has today announced availability of the game-changing Raspberry Pi Build HAT and power supply, further increasing its range of Raspberry Pi products. The Raspberry Pi Build HAT enables Raspberry Pi computers to be integrated into the LEGO® building system, offering students, teachers, novice electronics enthusiasts and makers greater flexibility and affordability when designing new projects.
The Build HAT and the LEGO® building system can be used to create robots, cars, games, a smart house and even an egg-laying chicken. The Raspberry Pi Build HAT is the second Raspberry Pi product to be based on the RP2040 microcontroller. The LEGO® Maker Plate is available separately from LEGO® retailers and allows users to easily integrate the Raspberry Pi computers into the LEGO® building system. Users who are comfortable working with Raspberry Pi and LEGO® will delight in these two brands combining to enable a fun and creative learning experience.
Farnell will be shipping the Raspberry Pi Build HAT and power supply from stock in October. Key product features include:
Raspberry Pi Build HAT combines the power of Raspberry Pi computing with hands-on learning experience of LEGO® to create a fun and interactive learning experience for students, teachers and makers. The Build HAT is compatible with the most recent generation of LEGO® Technic™ motors, and with sensors included in the LEGO® Education SPIKE™ Prime portfolio. The Build HAT is easy to use from Python on the Raspberry Pi.
Raspberry Pi 48W Build HAT Power Supply is the official power supply for use with the Raspberry Pi Build HAT. Key specifications include a 110-240V AC input and a 8V DC, 6A output. The product features a 1.5m connecting cable.
Romain Soreau, Head of Single Board Computing at Farnell, said: "Raspberry Pi Build HAT brings together world leading innovators Raspberry Pi and LEGO® by combining the Raspberry Pi computer range with the LEGO® building system. We are delighted to help inspire future creators by providing an expanded range of Raspberry Pi products which provide an introduction into electronic project design."
The Raspberry Pi Foundation is a UK-based charity that works to put the power of computing and digital making into the hands of people all over the world. Its goal is to provide an easy-to-use maker experience for beginners, which is flexible enough for advanced users. Raspberry Pi provides and affordable SBC system for education and to develop industrial automation and control, and personal computing products.
Farnell is the longest standing Raspberry Pi partner and has sold more than 15 million units to date. Farnell stocks the complete range of Raspberry Pi single board computers including the recently launched Raspberry Pi Pico, enabling customers to build a wide range of devices for professional, commercial, education or home use. A diverse ecosystem of accessories is available including cases, power supplies, micro-HDMI cables and the Raspberry Pi High Resolution Camera.
Farnell stocks a broad range of education devices that can be supplied in classes, schools and multiple-school quantities and has worked with multiple educational organisations and governments to support strategic rollouts of STEM learning solutions into the classroom. Farnell can offer support with provision and bundling of equipment for bespoke large-scale programmes. Customers can also benefit from 24/5 technical support alongside free access to valuable online resources on the Farnell website, and engineering and maker community, element14.
The Raspberry Pi Build HAT and power supply will be shipping in October from Farnell in Europe, element14 in APAC and Newark in North America.