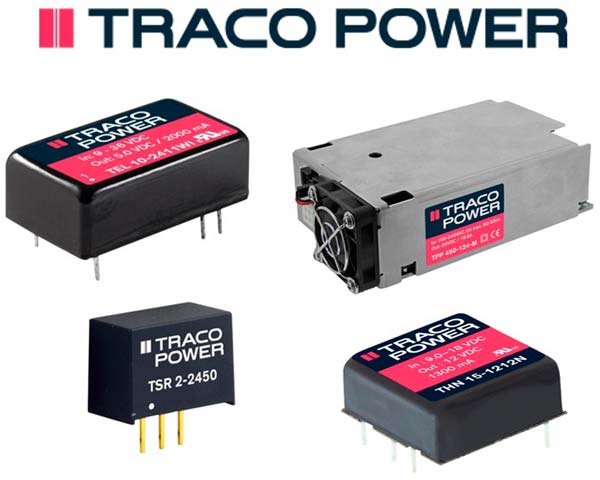 Farnell, the Development Distributor, is now shipping new products from leading Swiss power supply specialist Traco Power, with all models available in low order quantities for customers building designs in Industrial, medical and automotive. Customers in Europe can also receive Traco Power products with next day delivery. The Traco Power product range includes industrial and medical DC/DC converters from 1 – 300 Watt, AC/DC PCB mounted converters as well as AC/DC Open Frame and Enclosed DIN-Rail power supplies from 5 up to 1000 Watts. These products are most commonly used to develop control and automation applications as well as medical devices, transport systems and IoT applications that require high reliability, miniaturised design, a wide operating temperature and maintenance-free application.
Design engineers and manufacturers of industrial, medical and transportation systems rely on Traco Power products to ensure optimum performance and a long service life of end-products. The market-leading features of Traco Power's rugged DC/DC converters are widely used to support innovations in transportation technology, from door openers and communications equipment to the control of drives, brakes, switches and signal systems. These products can also be used for applications exposed to harsh and dangerous environments.
The latest Traco Power products now available from Farnell include:
The TEL 10WI series is a range of isolated 10 Watt converters which come in an ultra-compact DIP-16 metal package. This series of low power DC/DC converters provide maximum miniaturisation without sacrificing high efficiency and sets a new standard for power density with 3.83 W/cm3. The TEL 10WI series offer an ultra-wide 4:1 input voltage range and feature a high ef­ficiency of up to 86% which enables an operation temperature of up to +70°C at full load and up to 88°C with 50% load. The converters have an internal input filter to comply with conducted emission EN 55032 / EN 55022 class A. and are an economical solution for space critical and cost sensitive applications in instrumentation, IT and industrial electronics.
The TPP450A – 450 Watt AC/DC Medical Power Supplies offer highest power density for convection/conduction cooled medical power supplies in 3"x 5"package. The power supplies feature a reinforced double I/O isolation system satisfying latest medical safety standards (60601-1 3rd edition, 2 x MOPP) and earth leakage current below 100 μA makes the units suitable for BF (body floating) applications. Natural convection cooled power is 320W up to +50°C and 150W at +85°C enabling quiet and hygienic powering without the need for a cooling fan. High reliability is provided by industrial quality grade components and excellent thermal management, making the products an ideal solution for medical devices and demanding safety and space critical applications.
The THN 15 N Series is the latest generation of high performance 15 Watt DC/DC converters, enclosed in a shielded 1" x 1" x 0.4" metal package. The new and improved design provides a fully integrated EN 55032 class A filter and a greatly reduced no-load power consumption of 96-336 mW. The advanced circuit design enables the THN 15N to operate in a temperature range of –40°C to +70°C without derating. All models have a 2:1 input voltage range with regulated and isolated output voltages as well as remote On/Off and trim outputs. The THN 15 N Series is UL62368-1 certified, making the converters most suitable for distributed power architectures in communication and industrial electronics as well as applications where space on the Printed Circuit Board (PCB) is critical such as mobile equipment and instrumentation.
TSR2 series 2 Watt DC/DC converter is Traco Power's smallest 2 Watt DC/DC convertor and are drop-in replacement for inefficient LMxx linear regulators. A high efficiency up to 96 % allows full load operation up to +67°C ambient temperature without the need of any heat-sink or forced cooling. Other significant features over linear regulators include better output accuracy (±2 %), lower standby current of 2 mA and no requirement for external capacitors. The high efficiency and low standby power consumption makes these regulators an ideal solution for many battery powered applications.
Simon Meadmore, Global Head of IP&E at Farnell, said: "Like Traco Power, we strive to provide our customers with the highest quality electronic power components that meet the most stringent design requirements and surpass the toughest industry safety standards. We have close to 3,500 Traco Power products in stock and support our customers with high quality service including 24/7 technical support and next day delivery." 
The comprehensive Traco Power product range is available from Farnell in EMEA, and element14 in APAC.