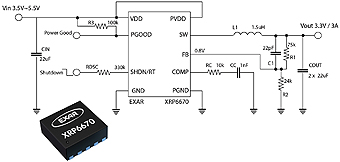 Exar Corporation, a leading supplier of high performance analog mixed-signal components and data management solutions, today expanded its family of low voltage, step down regulators with the addition of the XRP6670.
The programmable operating frequency of the XRP6670 offers power design engineers increased flexibility in optimizing component values, size and performance enabling precise management of electromagnetic interference (EMI) compliance and electromagnetic compatibility (EMC).
Operating from a 2.6V to 5.5V input voltage range, the XRP6670 is capable of supplying up to 3Amps of continuous current with an adjustable output voltage as low as 0.8V. This synchronous Pulse Width Modulation (PWM) voltage regulator can accommodate a broad range of inductor and output capacitor values through its constant 300kHz to 2.5MHz programmable operating frequency.
Additionally, the adjustable frequency range of the XRP6670, which is set via a single resistor, allows the user to optimize size, transient response and efficiency while precisely positioning the fundamental operating frequency and subsequent harmonics. Ideal for industrial, medical, and audio and video equipment, the XPR6670, with its compact form factor and reduced component count, is also ideal for space sensitive applications.
Exar Corporation
www.exar.com