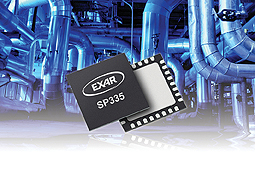 Exar Corporation announced the SP335 advanced multiprotocol transceiver supporting RS-232, RS-485, and RS-422 serial standards. At 5x5mm2, the SP335 is less than half the size of a comparable discrete design, doubling the number of serial interface channels that can be assembled in the same board space and allowing system designers to easily combine multiple serial protocols over the same connector. Programmable end-of-line termination and multiple configuration modes allow all three protocols to be used interchangeably over a single cable or connector with no additional switching components.
The SP335's bus pins are protected against severe ESD events exceeding ±15kV IEC 61000-4-2 Air Gap Discharge, and ±8kV IEC 61000-4-2 Contact Discharge, and can tolerate direct shorts to DC or AC voltages as high as ±18V. These rugged devices are intended for use in software programmable serial ports for industrial PCs and single board computers, process control, point-of-sale, embedded systems, HVAC controls, building automation networking, and security systems.
The SP335 also features a separate supply voltage for the logic interface pins, allowing the part to directly interface with low voltage UARTs and MCUs without needing voltage translators or level shifters. The logic supply voltage can be as low as 1.65V.
Exar
www.exar.com