Microchip announces the completion of its high-accuracy, 1-8 channel, single and poly-phase MCP391X energy-measurement Analogue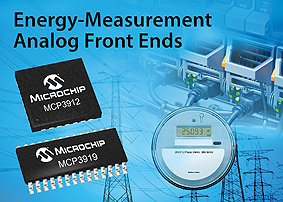 Front End (AFE) family. The new MCP3919 and MCP3912 members integrate three and four channels of 24-bit, delta-sigma Analogue-to-Digital Conversion (ADC), respectively, with industry-leading accuracy of 93.5 dB SINAD, -107 dB THD and 112 dB SFDR for precise signal acquisition and higher-performing end-products. These are the optimal numbers of channels for single-phase energy meters with neutral monitoring (3-channel); or single-phase, three-wire energy meters (4-channel). The high level of integration on the new AFEs also includes a low-drift voltage reference, programmable gain amplifiers, phase-delay compensation and Cyclic Redundancy Check (CRC).
As the energy-metering infrastructure is being upgraded worldwide, designers are demanding increased AFE accuracy and integration to develop the latest generation of smart meters. These features are also required by the designers of advanced power-monitoring systems for applications such as server power supplies and power distribution units, electronic circuit breakers, smart power strips and other data-acquisition products in the industrial, commercial and consumer markets. Microchip's newest AFEs improve application performance with their industry-leading accuracy, high integration and optimal number of channels for single-phase energy measurement. Additionally, the high AFE accuracy facilitates energy-meter calibration, which reduces production costs.
Microchip also announced two new tools to aid in the development of energy systems using these latest AFEs. The MCP3912 Evaluation Board (ADM00499) and MCP3919 Evaluation Board (ADM00573) can each be purchased today for $129.99. The MCP3912 and MCP3919 AFEs are both available today for sampling and volume production. Both AFEs are offered in 28-pin QFN and SSOP packages.
Microchip Technology
www.microchip.com/AFE-Page-102114a