MSC Technologies presents the DIS-812C interface card which meets the requirements of high resolution 2560 × 1600 pixels (2.5K) and high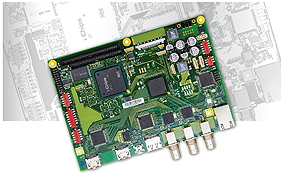 refresh rate for full-HD 1920 × 1080 @ 100 / 120 Hz (3D) displays. In dual board configuration, panels with a resolution of up to 3840 × 2160 (4K × 2K) can be driven.
To offer the necessary bandwidth, the interface card has 2 × HDMI® and DisplayPort V1.1a ports with HDCP encryption and two 3G / HD / SD-SDI inputs. The expansion port provides even more options by additional input modules. Two independent processing units allow for excellent Picture in Picture presentation (PiP, BbP, PoP) with selectable size, position and blending of overlap area. 512MByte DDR3 frame memory provides Motion Adaptive De-Interlace with high image quality.
The responsive, graphic OSM (On-Screen Manager) allows for signal independent OSM rotation and is controlled by a Jogdial (intuitive control), keyboard with dynamic auto-repeat or capacitive control units. A high resolution graphic boot logo is displayed at power-up for a selected time or until the custom application software starts.
Panel detection, automatic selection of panel power and timing are fixed automatically. The Frame Rate Converter ensures that the flat screen is always driven with the specified timing, if low latency frame lock timing would be out of specification for the input source. A high quality scaling engine fits the input image to the required window size (keep aspect ratio, horizontal/vertical fit).
MSC Technologies
www.msc-technologies.eu