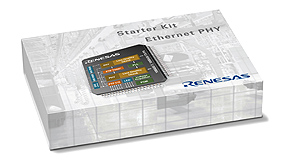 MSC now offers a starter kit for the dual Ethernet Physical Layer (PHY, part number µPD60620) from Renesas Electronics. The µPD60620 device enables real-time data transmission and reception without failure.
In addition to high-speed link-up and link-down control mechanisms, which can be used for instance in robotics, the device also offers a large number of diagnostics and monitoring functions. These include, among others, the support of real-time protocols such as PROFINET, SERCOSIII and EtherCAT that require fast link-loss recognition.
The Ethernet Physical Layer µPD60620, provided in a small LQFP80 package, is compatible with all standard Ethernet communication protocols and is also compliant with the IEEE802.3 standard. Detailed information about the µPD60620 device and starter kit can be requested by sending an email to micros-renesas@msc-ge.com.
MSC Vertriebs GmbH
www.msc-ge.com