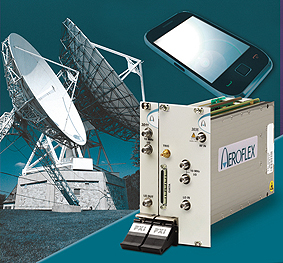 Aeroflex Limited, a wholly owned subsidiary of Aeroflex Holding Corp. announced a new addition to its popular PXI 3000 Series of RF modular instruments with the launch of the 3036 RF digitizer module, with frequency range extending to 13 GHz, for use in vector signal analysis of complex RF signals. The compact 3036 provides wide instantaneous bandwidth, fast frequency switching, high linearity and low noise. This makes it ideally suited for testing devices and RF components used in high performance wideband RF and microwave communications.
"The 3036 is targeted to address a growing market demand for higher frequency signal analysis in high-speed low-cost ATE systems where system footprint, measurement bandwidth and test speed are critical requirements," said Tim Carey, PXI business unit manager.
The Aeroflex 3036 is a RF digitizer operating over the band 250 kHz -13 GHz, with up to 90 MHz wide digitized -1 dB bandwidth and 13-bit ADC resolution. It supports high speed frequency switching in less than 325 µs. The 3036 is used with a 3010 Series synthesizer module to provide precision conversion of RF signals into digital IF or I and Q sample data. This combination of modules has a compact size of 4 slots (3 slots for the 3036 and 1 slot for the 3010) to minimize overall test solution footprint. The extended frequency range up to 13 GHz enables the measurement of harmonic characteristics of fundamental signals below 6.5 GHz.
The 3036 RF digitizer benefits from efficient, lean design and the modularity of PXI instrumentation to deliver a more economical solution than other modular or general purpose rack and stack instruments, with cost savings in the order of 40% being achieved without compromising critical performance needs. Using PXI enables faster measurement speed, smaller size and greater flexibility for easier system integration and future system evolution.
The highly flexible PXI Studio software application supplied as standard with the 3036 can provide vector signal analysis of complex modulated signals. PXI Studio performs spectrum and time domain analysis of sample data for general purpose RF component testing and alignment of radio communications transceivers. These features are ideally suited to the needs of RF test systems for manufacturing and design verification. Optional measurement personalities for PXI Studio enable measurements for a range of generic modulation types and radio standards including LTE (FDD and TDD); UMTS / HSUPA; TD-SCDMA; CDMA2000 1xRTT and EV-DO; GSM / EDGE; WLAN; WiMAX; Bluetooth® and ZigBee®.
Aeroflex Incorporated
www.aeroflex.com