Dialog Semiconductor plc, a provider of highly integrated power management, AC/DC power conversion, solid state lighting (SSL) and Bluetooth® Smart technology, announced that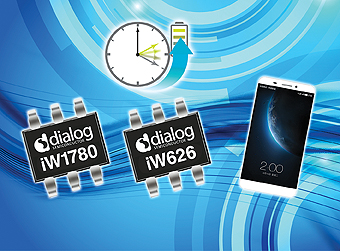 Le Mobile & Information Technology (Beijing) Co's recently launched smartphones, the Le Max and Le 1 Pro, ship with power adapters that contain Dialog's iW1780 (http://iwatt.com/product/iw1780/) +iW626 (http://iwatt.com/product/iw626/) Qualcomm Quick Charge 2.0 adapter chipset.
Founded in 2015, Le Mobile & Information Technology (Beijing) Co is a subsidiary under LeTV Holdings. Le Mobile has introduced the world's first ecosystem mobile phone brand – Le Superphone, including three flagship products: Le 1 Pro, Le Max, and Le 1. The Le Max is a high end device with a 6.33-inch Quad HD display, Snapdragon 810 chip (2GHz, octa-core, 64-bit), 4GB of LPDDR4 RAM, up to 128GB of internal storage, and a 21-megapixel f/2.0 camera with optical stabilisation and true-tone flash.
The Le Max also boasts an ESS Hi-Fi chip, a one-touch fingerprint reader, infrared remote, a 3,500 mAh battery, dual LTE SIM support and Wireless HD display link. The Le 1 Pro is smaller and has a reduced feature set compared to the Le Max.
With LeTV's recent entry into the smartphone sector, Dialog's adapter solution enables the Le Max and Le 1 Plus to charge exceptionally fast for a top user experience, which is especially important for streaming video and other battery-intensive applications. Dialog's SmartDefender™ technology helps to facilitate safer, more reliable rapid charging adapters, extending Le Mobile's array of ground-breaking phone features.
The iW626 Rapid Charge interface IC resides on the secondary side of the AC/DC charger power supply and works with Dialog's iW1780 PrimAccurate™ primary-side digital pulse width modulation (PWM) controller. The iW1780 uses a unique secondary-to-primary digital communicaton link signal to receive all Rapid Charge commands from the iW626 through a single optocoupler.
Dialog Semiconductor
www.dialog-semiconductor.com