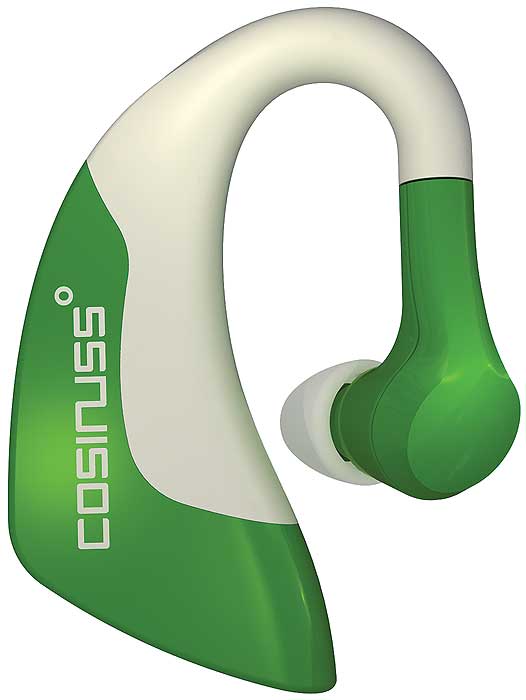 For many athletes a chest strap heart rate monitor is their constant companion. A PhD student at the Technical University of Munich thought that these monitors could be a bit more comfortable to wear, so he developed a sensor to be worn in comfort and unnoticed inside the athlete's ear. The tiny heart rate monitor is now going into mass production. Nordic Semiconductor and Rutronik were at the birth.
Dr. Johannes Kreuzer,
Managing Director,
cosinuss°
In response to the trend for keeping fit and an increasing requirement for remote monitoring in medicine, Johannes Kreuzer wanted to develop a monitoring process that could register various vital parameters and mechanical aspects without bothering or hampering users in any way. As a PhD student he started his basic research. It showed that the outer ear was the ideal place to carry out comfortable and precise measurements. The result was the first non-invasive sensor (i.e. outside the body) that measures core body temperature, while also ascertaining heart rate and oxygen saturation in the blood – and his doctorate!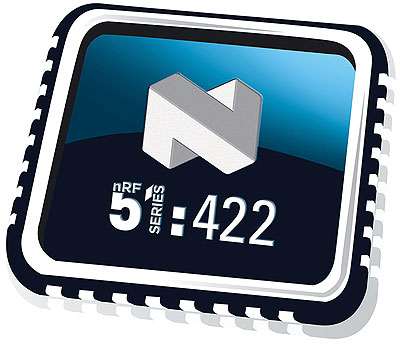 Eighteen months after successfully completing his doctorate, together with Greta Kreuzer, Johannes Kreuzer founded his company cosinuss° and started to develop a marketable product. Not only does it measure the wearer's heart rate, but it also sends data wirelessly to any standard smart phone, sports watch or other devices equipped with Bluetooth 4.0 or ANT+.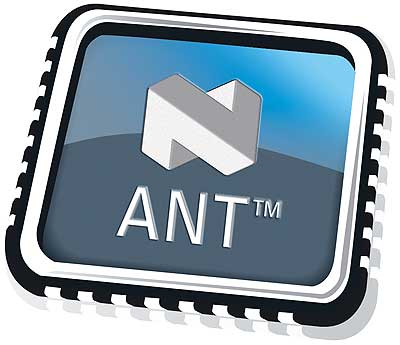 It means that with the cosinuss° sport app, or other apps standardly available on the market such as endomondo, Runtastic Pro or MapMyFitness, amateur and professional athletes can monitor their performance values. "I have always had excellent experience of products from Nordic Semiconductor, which is why I immediately thought of a Nordic wireless solution for the first cosinuss° product", explained Kreuzer. Since the manufacturer recommends Rutronik – with its logistic stock operation and the best-trained support technicians – as its preferred distributor in Europe, the distributor was the inventor's first port of call. Rutronik's wireless team provided him with technical support in selecting the product he needed. The engineers also put forward components from other manufacturers for consideration.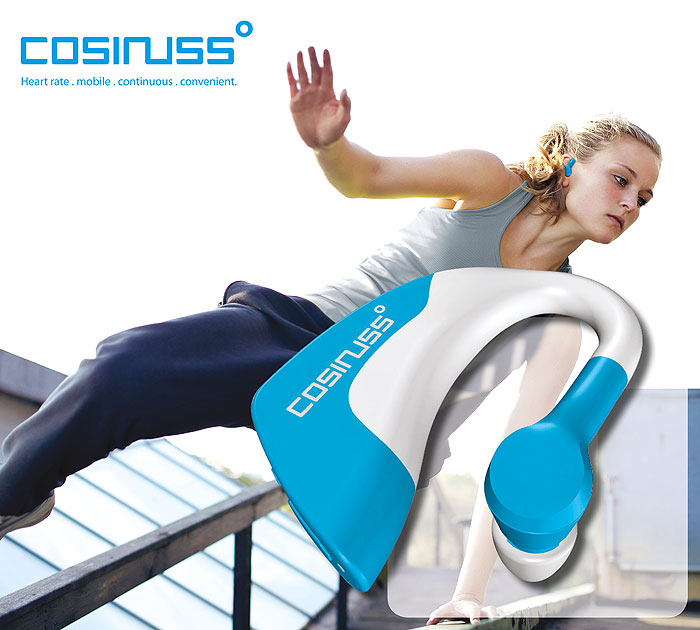 The main requirement was that they needed to be very small and facilitate low-energy radio transmission. The choice came back to a Nordic product: The nRF51422 Single Chip SoC met every requirement better than the competitor products. Its 32-bit ARM Cortex M0 processor is designed for maximum computing power yet low power consumption. To optimize performance even more it is able very quickly to switch into sleep mode, waking up again within just 2.5 µs. Intelligent software also helps to reduce the power uptake, which can be as low as 1.75 V. Cell batteries can be used at this minimum voltage, giving the end device a longer service life. The nRF51422 comes inside the tiny 48-pin 6×6 mm QFN housing which is easier to process than the same chip inside the even smaller 3.5 × 3.8 mm WLCSP housing.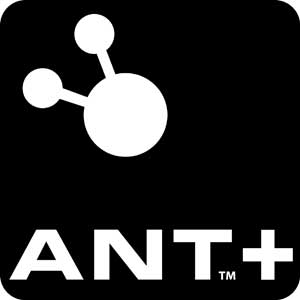 ANT: Small and economical
The nRF51422 works on the 2.4 GHz band which, compared with the popular nRF51822, enables the use not only of Bluetooth Low Energy (BLE) but also ANT/ANT+. These proprietary radio network standards are aimed specifically at ultra-low-power applications and achieve an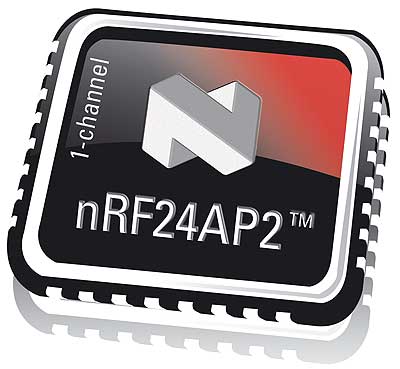 even lower level of energy consumption than BLE. This is because, at 1 MHz, their frequency channel is just half as wide as that of BLE, so that the data modulation requires correspondingly less energy. At just 15 kB, the ANT was developed to create wireless connections between sensors and their analysis devices at short distances of up to 50 m. This means that the protocol is ideally tailored for sport and fitness applications as well as for health care and telemedicine. It is already installed in many devices, such as in thirteen of the widely distributed Samsung Galaxy and in twenty-six Sony Xperia smart phone and tablet models. And of course the current top-selling S5 and NotePRO 12.2 by Samsung and Z2, as well as the Z2 tablet from Sony are ANT+ certified. This widespread market acceptance makes the protocol interesting for cosinuss° too, because the sensor needs to be able to communicate with as many devices as possible.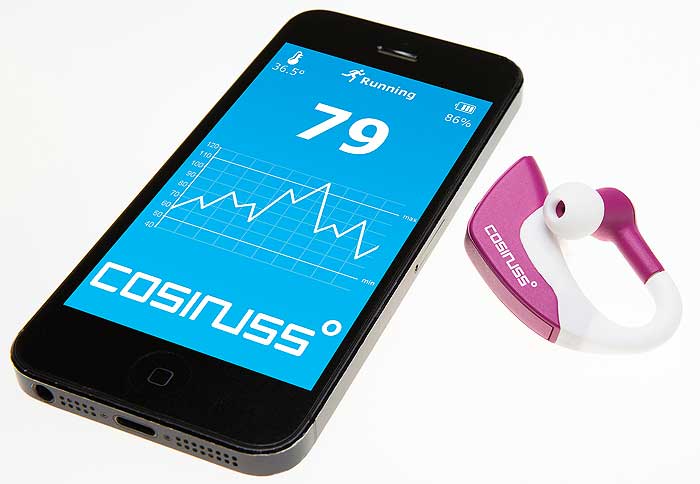 Another benefit of ANT is that, as opposed to Bluetooth/BLE, license fees are paid on purchase of the chip or module, so the device manufacturer can use the technology almost without further cost. Unlike with Bluetooth: since February 2014 products using the protocol must have their own "declaration of compliance" which has to be paid for in addition to the actual qualification process (QDID).
A further point in favor of the nRF51422 is its 2.4 GHz wide range, due to output power of 20 to +4 dBm and receiver sensitivity of -96 dB. Its software architecture allows strict separation of protocol stack and application software. The two can be stored separately and the user software can be integrated more easily, faster and without error. A whole series of analog and digital peripherals can interact without the CPU becoming involved. Thanks to 31 integrated GPIOs, which are individually assigned to different pins, as well as PWM, ADC and other features, an additional microcontroller is superfluous. That saves space, and also money and energy.
Developers require redesigns
One year after the first prototype, cosinuss° carried out a redesign. They improved the housing, which in turn affected the design of the circuit board. "It was quite tricky to design the earpiece in such a way that it will not wobble, yet sits well in the ear without bothering the wearer," recalled Johannes Kreuzer. "Each time we changed something on the housing, we had to make corresponding changes to the PCB. Luckily we were always able to call on the support of Nordic and Rutronik – they even came to our premises to offer advice." The algorithm that calculates the heart rate from the captured data had to be adapted very precisely to the data capture system.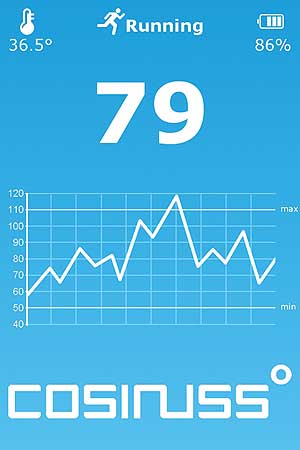 The cosinuss° C-SP 01 went into series production recently. The mobile heart rate monitor enables athletes to monitor their pulse rate without the discomfort of wearing a chest strap. It is housed inside a stylish case in vibrant colors, which can be worn behind the left or the right ear.
The C-SP 01 is available from the cosinuss° online shop (www.cosinuss.com). A second model – the C-SPM 01 – will be available within 2015. "We intend to include speakers into this model, so that, as they train, athletes can listen to music – which they can already do anyway through an earpiece inside their ear – while also monitoring their heart rate." It can also emit audible warnings, if, for example, the wearer's heart rate falls below or exceeds the ideal range for training.
Kreuzer plans a third product which will measure core body temperature as well as the heart rate. "This combination is much more informative and it means that athletes can monitor their fitness much more efficiently", explained Kreuzer. And as if that were not enough, cosinuss° is already planning further enhancements to make these comfortable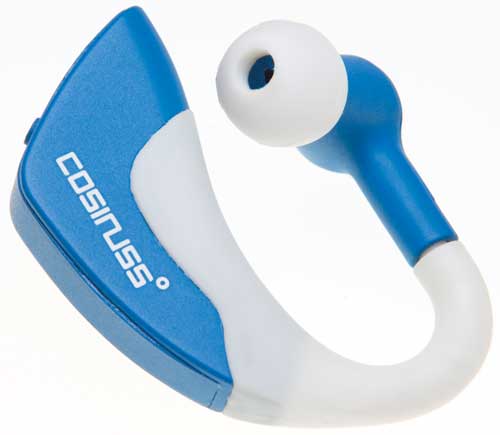 sensors suitable for work safety and medical applications. In particular there is a great deal of potential in research into sleep patterns and brain activity, in telemedicine and for hospital use. The device needs some modifications to ensure that the sensor can be easily and safely placed in position by the wearer, as well as by care and medical staff. And it also needs to meet medical requirements such as the ability to resist disinfection procedures as well the corresponding standards. "This is why we started by concentrating on the sports and fitness sector. We received extremely positive feedback", said a delighted Johannes Kreuzer. "And for our future developments we will be opting once again for the support of Nordic and Rutronik, based on the excellent experiences so far."