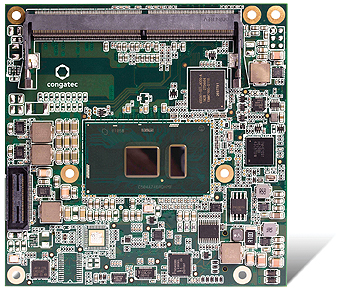 New performance levels for 15 watt class of fanless embedded systems achieved.
congatec AG, a leading technology company for embedded computer modules, single board computers (SBCs) and embedded design and manufacturing (EDM) services, has introduced four new COM Express compact modules parallel to the launch of the new 6th generation Intel Core processors (codename Skylake). The new modules are specially designed for challenging applications that demand high performance in sealed, fanless system designs. They feature a 15 watt configurable TDP and are equipped exclusively with the energy-saving ULV-SoC editions based on new 14nm microarchitecture. Compared to 15 watt modules with fifth generation processors (codename Broadwell), users benefit from improvements in graphics and processing performance, enhanced energy efficiency and more high-speed I/Os.
Typical fanless applications for congatec COM Express compact modules can be found in medical and industrial imaging, central control room technology, shop floor terminals, HMIs, robotics, professional gaming, infotainment, professional AV, smart video surveillance, autonomous vehicle control, computer-aided situational awareness as well as high-end digital signage applications. Graphics card free, triple-head systems – for example in the areas of retail and kiosks, where embedded systems control up to three independent cash or vending machines – present a further application example.
Users of the new computer modules will benefit from the high level of standardization and scalability of the COM Express modules combined with congatec's extensive documentation, industry-grade driver implementations and extensive customer support, which enable OEMs to integrate the latest processor technology quickly and efficiently into their individual applications. All modules are offered with long-term availability and software support of at least seven years. The software support includes, for example, enhanced security features as well as regular UEFI/BIOS updates and BSP patches. Customers thus benefit from reliable support over the entire lifetime of their applications.
The conga-TC170 modules, with COM Express Type 6 pinout, are equipped with the ULV-SoC editions of the sixth generation Intel Core i3/i5/i7 processors. For the first time, they offer a configurable TDP (Thermal Design Power) of 8.5 to 15 watts, which simplifies matching the application to the system's thermal design. The power supply has also been optimized, which in addition to the new microarchitecture also contributes to the energy efficiency and allows a longer turbo-boost.
Another new feature is the support of up to 32 GB of fast dual channel RAM, which in the DDR4 version provides significantly more bandwidth and is much more energy efficient than the DDR3 version.
The integrated Intel Gen 9 Graphics, which is premiering with this new microarchitecture, supplies up to three independently operated 4k displays with 60 Hz via DisplayPort 1.2. Version 2.0 of HDMI is also supported for the first time as well as version 12 of DirectX for even faster, Windows 10 based 3D graphics. Now not only the decoding but also the encoding of HEVC, VP8, VP9 and VDENC is hardware-supported. Energy-efficient streaming of HD videos in both directions is possible for the first time. Additional enhancements are the number of USB 3.0 ports (now 4) SATA Gen 3 (now 3) PCIe Gen 3 (now 6) as well as AMT (now version 11.0).
congatec AG
www.congatec.com