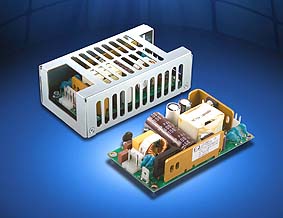 XP Power announced the ECS65 series of next generation single output open frame AC-DC power supplies. Capable of delivering 65 W and measuring just 101.6 x 50.8 x 26.7 mm (2 x 4 x 1.05 inches), these highly efficient convection cooled units are rated at up to 90% efficiency. Importantly, with a no load power consumption of less than 0.5 W, the ECS65 series will aid designers of end-products ensure their systems meet all internationally recognized energy efficiency standards.
The ECS65 has a wide operating temperature range from -20 degrees C to + 70 degrees C, that suits most applications. Full output power is available up to +50 degrees C with derating above. The units meet UL/EN60601-1 medical and UL/EN60950-1 commercial safety standards making them suitable for a broad range of industrial and healthcare applications.
Providing all the popular nominal outputs from +12 to +48 VDC, the single output ECS65 has a wide input voltage range of 80-275 VAC. A covered version is also available. They also comply with the EN55011 / EN55022 level B standard for conducted emissions without the need for additional filtering components. Overvoltage, overload and short-circuit protection features are included as standard.
The ECS65 series is just one of XP Power's line-up of "green" AC-DC power supplies. More information on the full range, and XP's own Green Power initiative can be found here: http://www.xppower.com/page.php?pagename=Energy&lang=EN
All products have a 3 year warranty.
The ECS65 is available from Farnell or direct from XP Power.
XP Power Ltd.
www.xppower.com