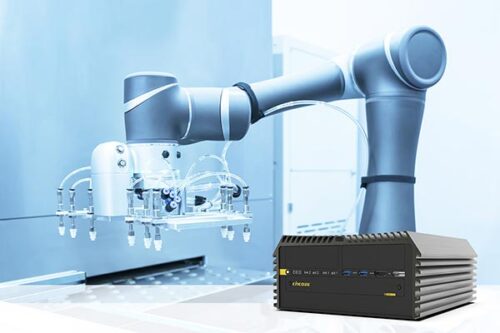 According to TrendForce research, the global smart manufacturing market will reach US$620 billion by 2026. Amongst the new technologies used in the burgeoning smart factory market, machine vision has proven a popular choice, enabling new technologies like vision-guided robots (VGRs) that make production lines more flexible, elastic, and efficient. The recommended option for VGRs is the Cincoze Rugged Computing – DIAMOND product line DS-1300 series. The DS-1300 is a workstation performance and PCIe expandable embedded computer with extreme processing capabilities, dual PCI/PCIe expansion slots, and industrial-grade protections. Since its launch, it has been widely used in VGRs for material picking, product assembly, machine operation, welding, and stacking.
Extreme Performance and PCI/PCIe Expansion Helps Image Analysis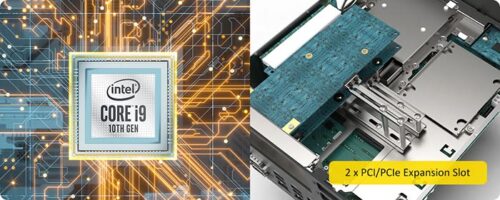 VGRs got images and data from cameras and sensors on the robot arm to the embedded computer for processing and judgment and then provide feedback signals to allow the robot to move to the target position to perform identification and defect detection on workpieces of various shapes. High-speed processing is key, and the DS-1300 series supports a 10th generation Intel® Xeon®/Core™ (Comet Lake-S) CPU (up to 10-core 80W), up to 64GB of memory, and an M.2 NVMe slot that can satisfy the VGR requirements for visual data collection, processing, and analysis. The DS-1300 supports up to two sets of PCI/PCIe expansion slots, enabling the connection of various commercially available high-speed I/O cards, image capture cards, motion cards, or GPU cards for image analysis or robot control. The patented Adjustable PCIe Card Retainer holds the expansion card securely in place, ensuring stable and reliable operation, even in a high-vibration environment.
Modular I/O Makes Data Recording and Transmission More Convenient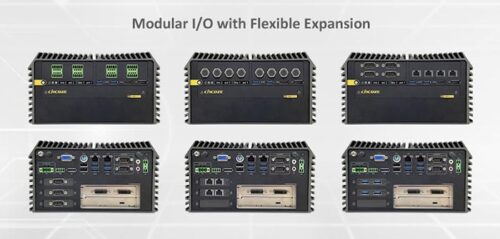 The DS-1300 series has a rich selection of native high-speed I/O such as 2× GbE LAN, 6× USB3.2, and more, that connect to the cameras and sensors required by the VGR for high-speed high-resolution data transmission. Cincoze exclusive modules provide further I/O or function expansion options, such as GbE LAN, 10GbE LAN, DIO, COM, USB 3.2, or PoE. The built-in Mini PCIe expansion slot can be used with commercially available Wi-Fi/4G/GPS modules for wireless communication and upload of production information to the central control center in real-time.
Rugged & Industrial Certification

VGRs are used in the harsh and complex environment of industrial manufacturing sites. All DS-1300 models are designed to withstand shock and vibration, meeting the industry-leading US military equipment inspection standard (MIL-STD-810G), and maintaining the rugged design of the DIAMOND series, with protection mechanisms such as wide temperature (-40–70°C) and wide voltage (9–48 VDC) support, and overvoltage, overcurrent, and ESD protection. Regardless of the working environment temperature, the DS-1300 series can operate uninterrupted for a long time, providing the most stable and reliable performance for VGR edge computing.
More about DS-1300:https://www.cincoze.com/goods.php?cid=4