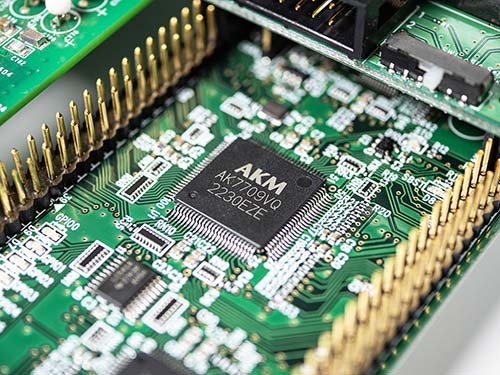 Asahi Kasei Microdevices (AKM) has launched the AK7709VQ, a new multicore digital signal processor (DSP) conceived for next-generation in-vehicle sound design. This powerful DSP enables the real-time large-scale computational processing required to provide an immersive sound experience for passengers.
With the advent of self-driving cars, there will be less need for passengers to focus on the traffic, allowing more time to be spent on work, entertainment, or relaxation. As passengers' expectations for the automotive environment evolve, the ability to create a customized, quiet setting with an accompanying premium listening experience will become a key differentiator for the in-cabin user experience. As a total solution provider for the in-vehicle sound environment, AKM has provided premium sound technology used in cars around the world for more than 20 years. Bringing its expertise in the field of active premium sound to the next level, the company's launch of the new AK7709VQ DSP further boosts the potential for a natural and immersive in-vehicle sound experience.
With a processing capability of 7,000 MIPS (Millions of Instructions per Second) and 2.75 MB of integrated memory, the AK7709VQ performs real-time high-resolution audio processing for multi-channel speaker arrays, enabling a quiet cabin with immersive, incredibly detailed music playback. Additionally, the two integrated HiFi 4 DSP cores support various third-party software. The AK7709Q's unique feature set, which features high sample rate multi-microphone voice processing, also allows for hands-free and in-car communication.  The built-in audio hub function, which includes 20 channels of asynchronous hardware sample rate conversion (ASRC), supports flexible digital input/output to and from many digital sources and endpoints.
Listening experience provided in AKM Garage Labs
In addition, AKM  has applied its acclaimed audio PCB (Printed Circuit Board) design expertise to develop a sound design demo board combining the new DSP with the AK4499EXEQ, AKM's flagship digital audio converter (DAC). This system demonstrates immersive in-vehicle sound and can be experienced by customers in demo cars at the company's Garage Labs in Tokyo, Shanghai, and Shenzhen. Additional Garage Labs will make this experience available in North America and Europe in the fourth quarter of 2023.
More information on the product: https://www.akm.com/us/en/about-us/news/2023/20230720-ak7709
Asahi Kasei Microdevices (AKM)