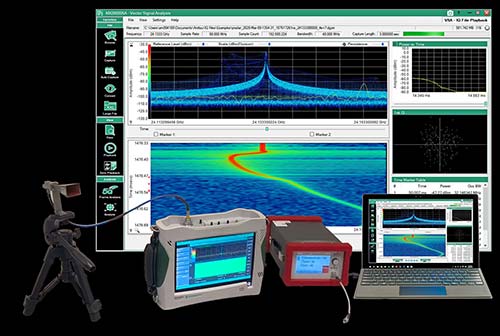 Anritsu Company, has partnered with AnaPico AG, in response to the growing demand from customers need for instruments to capture RF signals of interest over the air and then play them back from vector signal generators. The Anritsu IQ Signal Master™ MX280005A PC application has been enhanced to integrate the capture of RF IQ signals using the Field Master Pro™ MS2090A spectrum analyzer and then to load the IQ data file into the AnaPico VSG for playback at any frequency up to 40 GHz. The seamless process of IQ data capture and playback is ideal for in depth testing of the response of receivers to a wide range of signals.
The ability to record and analyze a broad range of radio signals including radars, telemetry links, secure communications and jammers are increasingly important to the security and defense agencies. The IQ Signal Master MX280005A integrates all the required functionality into a single package that manages the capture configuration, provides a built-in spectrum analyzer replay with microsecond resolution, and playback of the captured signal at any frequency to 40 GHz.
Built in intelligent algorithms include tools to quickly find and extract signals of interest from large data files, extraction of low-level signals from the noise and scenario testing to validate the performance of receivers to real world threats.
About AnaPico
AnaPico is an ISO9001 certified technology leader. Their core expertise lies in the development, manufacturing, and provision of cutting-edge RF and MW test and measurement instruments tailored for a broad spectrum of civilian and governmental applications. Anchored by substantial investments in R&D, AnaPico is unwavering in its commitment to creating and enhancing innovative, cost-effective T&M solutions, setting new standards in performance, and offering distinctive features that cater to diverse needs. The AnaPico product line features an extensive selection of RF and Microwave Signal Sources, including both analog and vector, single- and multi-channel solutions, as well as signal source analyzers with capabilities extending up to 65 GHz. The company continuously strives to elevate the standards of precision and reliability in the industry, empowering customers with advanced tools for success.
To learn more visit www.anapico.com or contact sales@anapico.com.