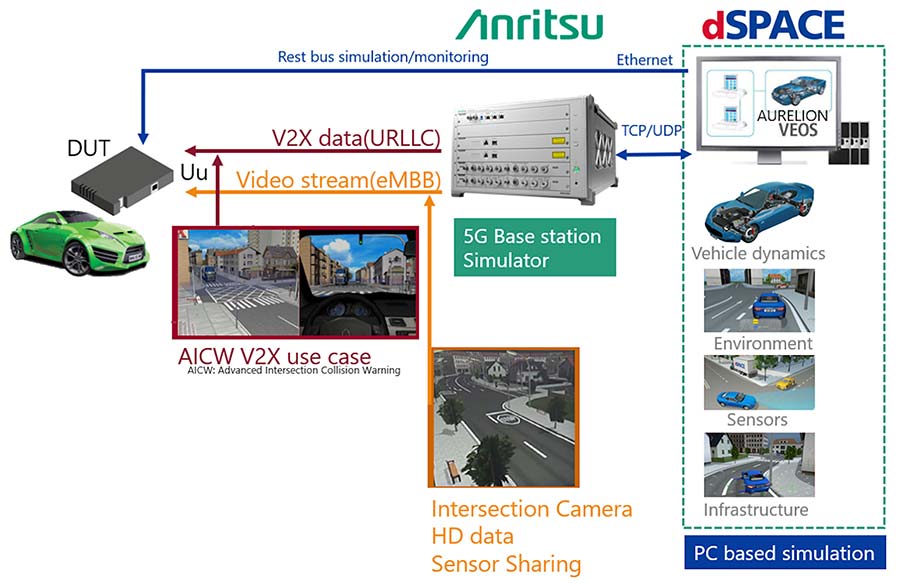 Anritsu Corporation, in collaboration with dSPACE, has developed an advanced digital twin simulation environment designed to provide improved protection for vulnerable road users (VRU). At 5GAA*1 on October 23-27, 2023, in Detroit, USA, the two companies will demonstrate a road safety use case using the C-V2X 5G network for cooperative communications. Vulnerable road users include pedestrians, bicycles, among others, and there is growing global interest in using C-V2X technologies to prevent accidents with vehicles. VRU protection is actively being developed for roads and intersections to ensure safety and improve accident prevention. As a technology to support this, there has been direct detection of VRU by installing advanced driver assistance systems (ADAS) sensors in vehicles. The international organization 5GAA has been investigating accident prevention methods by the use of 5G-network-based communication, which is based on cooperative communications to and from VRUs. Unlike in-vehicle-based methods, it is expected that protection in blind spots (such as outside the effective detection range of vehicle-mounted sensors and building shadows) will also be possible via 5G network communication. To achieve this, the 5G communication to cooperative VRUs must be reliable, and the evaluation of QoS management and fault tolerance at the IP layer is a critical factor.
The demo solution provides a digital twin environment for real-world scenarios, so VRU protection testing can be started virtually when features are not yet available on the real vehicle. This demonstration has attracted the attention of automakers, auto parts suppliers, mobile network operators, etc. Anritsu will continue to develop this solution to improve the protection of vulnerable road users and contribute to the development of smart cities by setting up an advanced simulation environment using digital twins. "Today almost 40% of fatalities on the road are people outside the vehicles: pedestrians, cyclists, road workers, children, and more. It is a priority for the 5GAA members to leverage C-V2X technologies to protect these Vulnerable Road Users.
This Digital Twin technology demonstration shows how C-V2X communications can offer this great societal opportunity," stated Maxime Flament (CTO of 5GAA).
Demonstration Overview
dSPACE's PC-based simulator is a tool that simulates the integration of environmental, infrastructure, sensor, and vehicle information using a PC. In this demonstration, VRU protection simulation is performed by reproducing the University of Michigan's automotive test course "M City" used at the 5GAA meeting week, together with smart cameras and different road users.
V2X data messages generated by communication devices such as smartphones carried by vulnerable road users, such as cyclists and pedestrians, as well as sensor information from intersection cameras, are transmitted to an OEM application that displays VRU protection results on the vehicle side via 5G communication using Anritsu's 5G base station simulator.
Base Station Simulator Radio Communication Test Station MT8000A
The test platform provides network simulation compatible with 5G radio access technology and provides a development evaluation and certification test environment for automotive use cases such as Telematics, Infotainment, and V2X.
Technical Terms
*1: 5GAA
The 5G Automotive Association (5GAA) is a global, cross-industry organisation of companies from the automotive, technology, and telecommunications industries (ICT), working together to develop end-to-end solutions for future mobility and transportation services. For more information visit www.5gaa.org.
About dSpace
dSPACE is a leading provider of simulation and validation solutions worldwide for developing networked, autonomous, and electrically powered vehicles. The company's range of end-to-end solutions are used particularly by automotive manufacturers and their suppliers to test the software and hardware components in their new vehicles long before a new model is allowed on the road. Not only is dSPACE a sought-after partner in vehicle development, but engineers also rely on our know-how at dSPACE when it comes to aerospace and industrial automation. Our portfolio ranges from end-to-end solutions for simulation and validation to engineering and consulting services as well as training and support. With more than 2,400 employees worldwide, dSPACE is headquartered in Paderborn, Germany; has three project centers in Germany; and serves customers through its regional companies in the USA, the UK, France, Japan, China, Croatia, Korea, and India. For more information visit www.dspace.com.