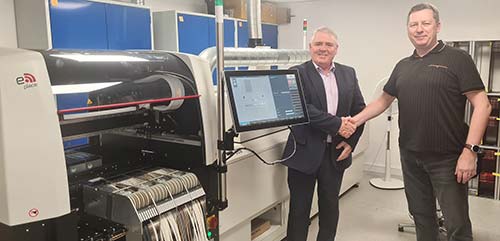 Altus Group, the leading distributor of capital equipment for electronics assembly in the UK and Ireland, recently partnered with SKALARKI electronics Ltd, specialists in flight simulator design and manufacturing, to further enhance its production capabilities. The collaboration aims to elevate SKALARKI' S manufacturing capabilities by providing state-of-the-art equipment from Essemtec.
Recognising the market need for   flight simulators, Skalarki's operations expanded over the years, and last year the company moved to its own state-of-the-art 900m² facility, providing a solid foundation for its ongoing growth.
In order to develop their production processes and meet the advanced requirements SKALARKI consulted with Altus Group to add to their assembly technology. The company invested in equipment from Essemtec, an industry leader in SMT pick-and-place equipment and intelligent production storage and logistic systems.
Joe Booth, CEO of Altus Group, said: "SKALARKI' S commitment to delivering top-quality flight simulators and their drive to continuously improve production aligns perfectly with our mission to provide cutting-edge solutions to our customers. 
"When we assessed SKALARKI' S requirements, it became evident that Essemtec's innovative equipment was the obvious choice. The Essemtec Fox SMT Pick and Place unit, with its remarkable versatility and compact size, along with The Lizard Convection Reflow Oven, offer SKALARKI the perfect combination of flexibility, efficiency, and precision.
"We are confident that these state-of-the-art machines will enhance SKALARKI' S manufacturing capabilities, enabling them to deliver quality products quickly and efficiently."
Marcin Kapera, SKALARKI Company Director, added: "Manual assembly has its limitations. As we expand to a commercial market, our products face advanced requirements and must meet higher expectations. Implementing automated assembly processes will allow us to meet quality standards quickly and efficiently."
The acquisition of Essemtec equipment, including the Fox SMT Pick and Place unit and The Lizard Convection Reflow Oven, was driven by their commitment to delivering exceptional products and increasing production efficiency of more complex microcontroller-based designs which include BGA chips and SOM modules.
The Essemtec Fox stands out for its remarkable versatility and compact size. Occupying only 1m² of floor space, the system offers SKALARKI the flexibility to adapt and grow its manufacturing capabilities as required. With up to 200 lanes on a single standalone system, the Fox meets high-mix production requirements. The machine's multi-flexible feeder and multi-lane cassette options further enhance its adaptability, ensuring the smooth handling of various components and assemblies.
The automated assembly processes provided by the Fox system will enable SKALARKI to meet quality standards quickly and efficiently and achieve precise and accurate placement of components, resulting in high-quality products and superior results.
SKALARKI plans to maximise its investment in Essemtec equipment over the next 18 months, utilising the machines to ensure a seamless transition into full-scale production. Altus Group looks forward to seeing the impact of the Essemtec machinery on SKALARKI' S production of PCBAs.