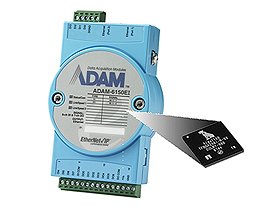 Innovasic Semiconductor is pleased to announce that Advantech has selected the Innovasic RapID Platform and fido1100 System-on-a-Chip (SoC) solution to provide EtherNet/IP connectivity in their new ADAM-6100 series of real-time Ethernet I/O modules for factory automation.
"Innovasic's fido1100-based RapID Platform for Industrial Ethernet enables customers to quickly and cost-effectively get new products to market," said Jordon Woods, Innovasic CTO. "By utilizing the flexible architecture and programmability of the platform, customers can rapidly release a series of compatible industrial Ethernet products," he concluded.
"Innovasic's platform provided the means for us to quickly add EtherNet/IP connectivity to our new product line. The RapID Platform provided us with a low cost and highly reliable solution for our new I/O modules," said Jason Lin, Product Manager, Advantech Industrial Automation Group. "This is our second development using the Innovasic solution and it enabled us to launch six new I/O modules simultaneously and within a very short time from our initial EtherNet/IP PAC product release." The RapID Platform is a complete, royalty-free design that provides EtherNet/IP and PROFINET connectivity for factory automation applications. The entire platform can be downloaded for a free evaluation directly from the Innovasic website at http://www.innovasic.com.
Innovasic Semiconductor
www.innovasic.com