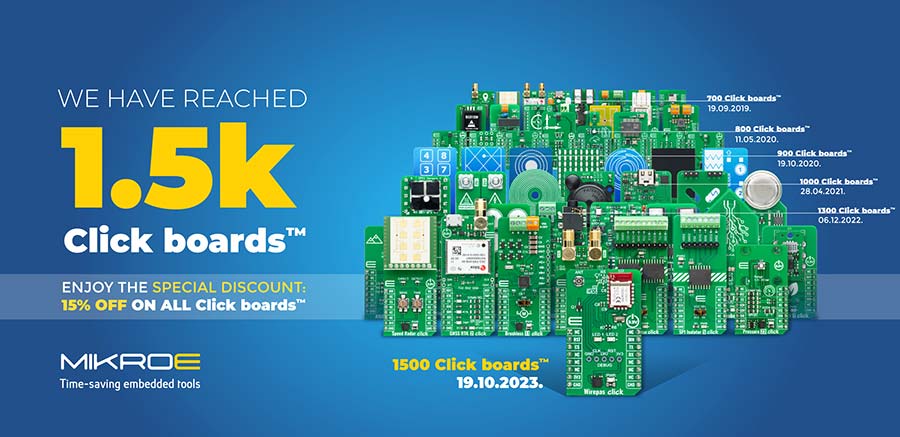 MikroElektronika (MIKROE), the embedded solutions company that dramatically cuts development time by providing innovative hardware and software products based on proven standards, today launched its 1500th Click™ board add-on development board. Wirepas Click enables engineers to implement the Wirepas Mesh wireless connectivity stack in their application. This platform provides large scalability, so the technology is ideal for extensive IoT networks. This Click board makes the perfect solution for developing long-life battery-driven IoT networks, supply chains, asset tracking, smart lighting, smart metering, and more.
Explains Nebojsa Matic, CEO of MIKROE: "MIKROE now offers 1500 Click boards –  more than any other company in the world. Clicks are available for many functions – sensors, power, motor control, HMI to name just a few. If we consider wireless connectivity alone, designers can choose from 160 solutions."
Wirepas Click is based on the WIRL-PRO2 Thetis-I, a Wirepas Mesh Protocol radio module from Würth Elektronik. The module transmits data securely and reliably in the license-free 2.4 GHz band, which is globally available and features both authentication and encryption mechanisms. The WIRL-PRO2 Thetis-I module features small dimensions comparable to a nano-SIM card (8 mm x 12 mm), including an onboard PCB antenna, suiting small-form-factor design. The module works in a frequency range of 2402 up to 2480MHz with a data rate of up to 1Mbps. It is based on nRF52840, a 32-bit ARM Cortex-M4 microcontroller from Nordic Semiconductor. It is accompanied by 1MB of Flash and 256KB of RAM. It has a printed antenna with a smart antenna configuration (2-in-1 module), which allows up to +6dBm of transmit power and -92dBm sensitivity. The connectivity can be even better with an external one attached to the onboard N.FL connector from a vast MIKROE offer.
Wirepas Click can work as a beacon because of its very small power consumption. For this purpose, it is equipped with a backup battery. In addition, there are two user-configurable indication LEDs, LED1 and LED2 (blue and green). In addition, the Wirepas Click is also equipped with an unpopulated header for debugging purposes, allowing direct communication to the Wirepas microcontroller.
Explains Nebojsa Matic, CEO of MIKROE: "Today we are celebrating our 1500th Click board. But we launch three or four new Clicks every week. We also offer standardized MCU and display solutions, and our aim with all these development tools is simply to fast-track design. Don't reinvent the wheel, don't pay for expensive, singular design tools, get to market faster."
Click boards follow mikroBUS™ a modular prototyping add-on board standard invented by MIKROE, enabling design engineers to change peripherals easily, cutting months off development time. Any Click board can be connected to the microcontroller or microprocessor on a main board. Many leading microcontroller companies including Microchip, NXP, Infineon, Dialog, STM, Analog Devices, Renesas and Toshiba now include the mikroBUS socket on their development boards.
Watch the video celebrating MIKROE's 1500 Click board.