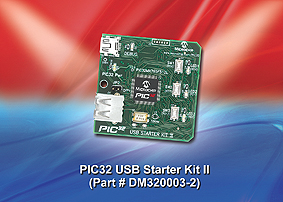 EP&Dee is offering its readers the chance to win a PIC32 USB Starter Kit ll from Microchip!
The PIC32 USB Starter Kit II enables users to develop USB embedded host, device and OTG applications on the high performance PIC32 microcontroller family. The board contains an on-board programming/ debugger, standard A USB and micro A/B connectors, and an expansion header compatible with the PIC32 Starter Kit and expansion board such as I/O Expansion Board (DM320002) or for prototyping your own. Host PC requires Windows-based operating system.
The USB Starter Kit II has the same form factor and expansion connector as other PIC32 Starter Kits.
This kit includes:
• PIC32 USB Starter Board II
• Standard A to mini B cable for debugger
• Standard A to micro B cable for USB application development
• Quick start card directing users to web based instructions for software download and installation.
For the chance to win a PIC32 USB Starter Kit ll, go to: http://www.microchip-comps.com/epdee-usb and enter your details in the online entry form.