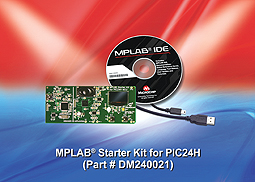 EP&Dee is offering its readers an MPLAB Starter Kit for PIC24H MCUs. This kit is a complete hardware and software kit for exploring the power of PIC24H family of MCUs for multi-tasking needs. With a built-in debugger on the board, simply install the software and connect the USB cable to the PC. Start up MPLAB IDE and gain full control. Run the accelerometer based sample programs and check out the interaction of the accelerometer and the switches with the MCU on the visual display and listen to the speech playback. Connect your own analog sensor for sensor signal processing. Download and test your own applications.
The starter kit features PIC24HJ128GP504 MCU with 128 KB Flash and 8 KB RAM as the computational unit. A tri-axial accelerometer is provided for acceleration detection. The starter kit also showcases a low cost audio playback with an on-board speaker and an OLED display running Microchip Graphics library. A separate signal conditioning circuit is provided to plug-in a wide range of sensors.
For your chance to win one of the two Microchip MPLAB Starter Kit for PIC24H, please visit:
http://www.microchip-comps.com/epdee-pic24h
and enter your details in the entry form.