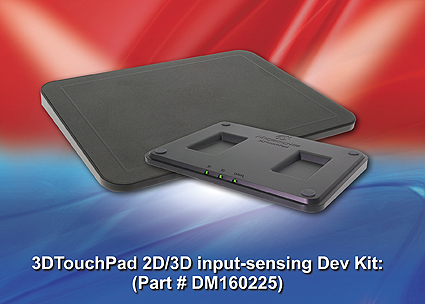 EP&Dee is offering you a chance to win a Microchip 3DTouchPad! Microchip introduces the first 2D/3D input sensing Development Platform.
The 3DTouchPad (DM160225), is a production-ready development kit and reference design which combines 2D tracking of up to ten fingers, with 3D air gesture recognition for fast development of advanced input sensing for PC peripherals and other applications.
Based on Microchip's GestIC® technology, 3DTouchPad's robust and innovative 3D gesture recognition technology offers a detection range of up to 10 cm, whilst the highly responsive 2D projected-capacitive multi-touch input sensing supports up to 10 touch points and multi-finger surface gestures.
As a plug-and-play PC peripheral, 3DTouchPad connects to a PC using a single USB cable and includes a free Graphical User Interface (GUI), Software Development Kit (SDK) and Application Programming Interface (API). It also offers out-of-the-box driverless features to enhance the user experience for Windows® 7/8.X and MacOS®.
For the chance to win a Microchip 3DTouchPad, visit:
http://www.microchip-comps.com/epdee-3dtouchpad