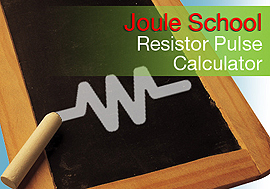 A free online pulse energy calculator that helps designers select the right wirewound resistor for their application is now available on the website of Vishay Intertechnology, Inc.
Vishay's new Joule School online pulse energy calculator (available at http://www.vishay.com/resistors/pulse-energy-calculator/) allows designers to determine the energy of a pulse that could go through a resistor in their application. The calculator is perfect for selecting wirewound resistors for applications exposed to large pulses such as a capacitive charge/discharge or lightning surge, including phone towers, solar power systems, windmills, welders, test equipment, and power supplies.
Simple to use, Joule School offers designers a choice of three pulse types to calculate: square wave pulse, capacitive charge/discharge pulse, and exponentially decaying pulse. After selecting the pulse type, users enter the required variables for their application and click "Compute" to determine the pulse energy and average power. To help determine the best wirewound resistor to meet the needs of their application, designers can then contact Vishay with the pulse information.
Vishay Intertechnology, Inc.
www.vishay.com