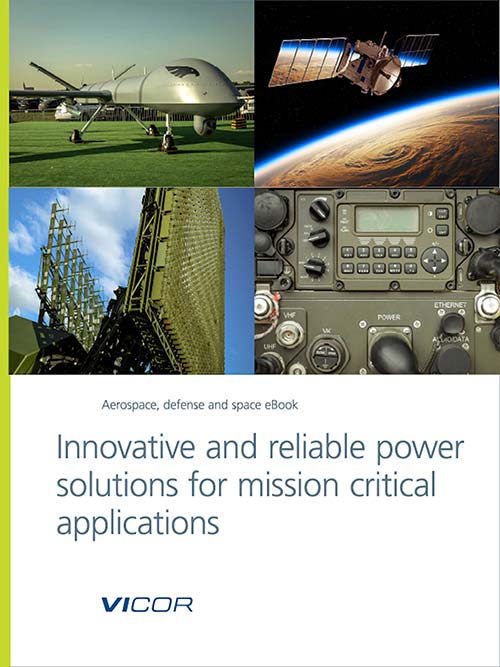 Vicor, a leader in high‑performance power modules, releases its new e-book detailing the innovation needed to manage high power demands across the aerospace, defence and satellite sectors. The new e-book – 'Innovative and reliable power solutions for mission critical applications' – highlights case studies and technical articles to provide readers with in-depth knowledge and application-specific insights into designing better power delivery networks.
As space exploration grows exponentially and governments continue to invest heavily in defence spending, this sector is seeing higher demand for innovative and reliable power solutions. For example, high-performance LEO and MEO communications satellites require compact power solutions that are radiation-tolerant to survive the harsh environment of space. Satellite operators are offering increasingly more sophisticated on-board processing capabilities necessitating the use of the latest ultra‑deep‑submicron FPGAs and ASICs. These have demanding, low-voltage, high-current, power requirements and OEMs are being challenged to offer more functionality from smaller payloads and platforms. Additionally, as electronic systems are becoming more standardised in defence applications, there is a demand for increased interoperability, scalability and reliability.
Size, weight and power (SWaP) are always target parameters in aerospace and defense applications and this will remain the focus. From the requirement for high density solutions in UAVs to designing radiation-tolerant power electronic solutions, Vicor's lightweight compact high density power modules provide flexibility for power system designers. The new e-book examines a range of challenges and modular solutions. It presents technical advice using Vicor's power modules and answers frequently asked questions about power – in this downloadable guide.
'Innovative and reliable power solutions for mission critical applications' addresses critical pain points within the aerospace, defence and satellite industries, including:
Powering tethered, aerial and underwater vehicles
Electronic countermeasures
Delivering high power density and low noise for space applications
Radiation tolerant power electronic systems
Scott Fowler, Business Development Manager, Aerospace, Defence and Satellite, Vicor, said, "OEMs are facing increasing pressure to find lightweight scalable solutions that can meet the applications power needs and this new ebook presents cases studies and solutions. Customers are at the heart of what we do, so we want to enable them to explore new ideas while offering practical solutions and technical advice to them in one place. Also our online resource library contains a variety of literature to support our customers, so we're excited to be adding a new ebook to the mix to support power system designers."
Vicor's ebook is free to download.To learn more about Vicor's solutions for the aerospace and defence markets, please visit https://www.vicorpower.com/industries-and-innovations/aerospace-and-defense or for space and satellite, please visit https://www.vicorpower.com/industries-and-innovations/leo-satellite.