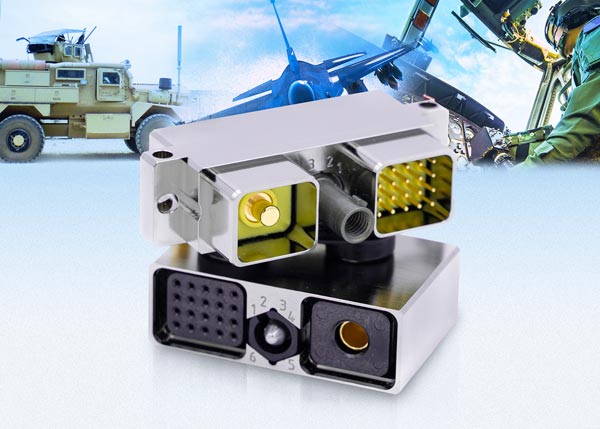 Nicomatic, the leading manufacturer of high performance interconnect systems, announces full EN 4165 qualification and certification for its new OPTIMUS by Nicomatic™ modular interconnect series, optimised for PCB and panel connection in harsh-environment, weight and space-constrained aerospace applications.  Fully sealed and offering EMI protection, OPTIMUS connectors are also resistant to high vibration and shock, making them suitable for multiple further applications, including military vehicles, defence avionics and robotics.
Highly versatile, OPTIMUS is a rectangular, modular connector series, available in full standard and full custom layouts, standardised to address increasingly harsh environments.  Designed to meet the requirements of the EN4165 and Arinc 809 standards, OPTIMUS is according to AS/EN 9100 quality management standards. OPTIMUS connectors are fully intermateable and interchangeable with existing EN 4165 solutions.
OPTIMUS interconnects save space when compared to circular connectors, thanks to their slim fit and high density and are also stackable to save space.  PCB adapted, offering efficient PCB fixing, they can be connected directly at the board level.  Robust blind mating and re-alignment in rack and panel saves assembly and maintenance time and maintenance is further simplified as both contacts and modules are removable.
The OPTIMUS ready-to-plug module is the heart of OPTIMUS connector solutions – in a single component, it encompasses several high-level functions for optimal performance in harsh environments.  Industry-leading sealing is achieved in a single operation to perform three main functions: the interfacial seal ensures complete sealing between mated modules and reduces arcing; the peripheral seal ensures sealing between the modules and its shell cavity; the rear grommet compresses around the wires and protects against the ingress of liquid.  OPTIMUS modules feature moulded thermoplastic clips to ensure contact retention and a module retention clip which enables the module to fit in any adapted cavity, either a standard OPTIMUS shell or directly in the application equipment structure itself.
The almost infinite flexibility of OPTIMUS modules is demonstrated by for example, with modules and contacts incorporating size 8 through to size 22 M39029 and EN3155 contacts. Shells are two and four cavity, available in either aluminium 6061 or composite.  Adapted surface treatments to provide salt spray protection are either black nickel (96 hours spray protection) or olive green cadmium (500 hours).
David Carman, Global Business Manager for Nicomatic's outside of box interconnect products for hi-rel applications in the aerospace and defence markets, comments: "The launch of the EN4165 Optimus range of connectors is an exciting development which will enable expansion into new markets and offer customers the world-class levels of service that Nicomatic is known for. The OPTIMUS range brings Nicomatic's renowned highly modular approach to customers with challenging aerospace and defence applications that require an EN 4165 solution yet are highly space and weight constrained."
Full electrical, mechanical and environmental specifications are available in the OPTIMUS brochure.