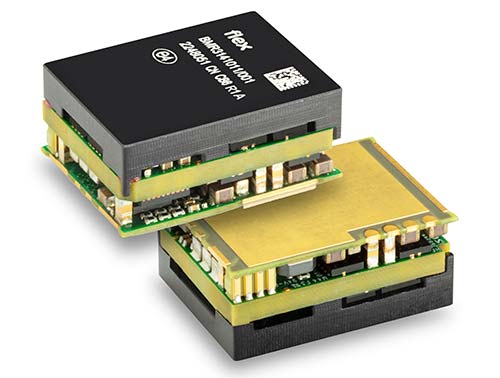 Flex Power Modules has announced the availability of their BMR314 product, a non-isolated DC/DC converter, featuring a fixed 4:1 down-conversion ratio for intermediate bus applications. The highly power-dense part provides 800 W continuous, 1.5 kW peak from an industry-standard, ultra-small package, sized just 23.4 x 17.8 x 9.6 mm. Input range is 38 – 60 VDC (68 VDC peak) for an output of 9.5 – 15 VDC.
Featuring a controller developed by Flex Power Modules in conjunction with leading semiconductor manufacturer onsemi, the BMR314 is targeted at applications such as powering Point of Load (PoL) converters in AI and datacom centers where high peak loads can occur, space is at a premium and energy saving is important. This is enabled by the BMR314 with its high efficiency of 97.4% peak in a low-profile package optimized for cold wall cooling. Up to 70 A output current is available and the device is fully protected against over-temperature, input under-voltage and output over-current, over-voltage and short circuits. Full control and monitoring are provided through a PMBus® interface and the product is supported by the Flex Power Designer software tool for configuration, performance simulation and monitoring.
MTBF of the BMR314 is 7.49 million hours according to Telcordia SR-332 Issue 4 Method 1 at +40°C. Operation is possible between -20°C and +125°C for a specified hot spot location and a timed warning and shutdown with overtemperature are provided to ensure minimum stress, particularly under peak loading conditions.
The BMR314 is available as a surface mount device with LGA terminations in an industry-standard footprint and pinout. The product meets the safety requirements of IEC/EN/UL 62368-1 for non-isolated converters and meets 'Class B' conducted EMI limits to standards EN 55032/CISPR 32/FCC part 15J with a simple external filter. For even higher power levels, the already-released BMR313 is available in the same footprint.
David Xie, Director R&D and Product Management Shanghai of Flex Power Modules comments "Our new BMR314 IBC DC/DC can help to reduce size, weight and costs in critical data center applications, while providing the flexibility to safely handle high peak loads".
BMR314 is now available for sampling and is planned to go into volume production in Q4 2023.