Zytronic, with the assistance of its French distributor Euro­composant, has secured on-going business with interactive furniture producer HUMElab. The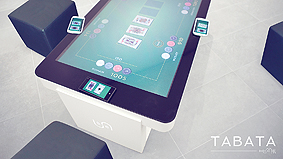 touchscreen manufacturer is now producing ultra-durable p-cap sensors for a series of multi-touch table products, targeted at use in home, restaurant and hospitality settings.
Requiring leading-edge multi-touch operation, it was vital for HUMElab that the touch sensors supplied for this project were able to meet a number of challenging criteria. Firstly: the sensors needed to withstand the stresses associated with high usage public areas, be low maintenance and easy to clean, whilst still maintaining accurate multi-touch responses. Secondly, the sensors needed to be aesthetically pleasing and fit comfortably into high-end luxury environments. Zytronic's award winning Projected Capacitive Technology (PCT™) was chosen as it fulfils all of these requirements.
Combining beautifully designed furniture with Zytronic's innovative multi-touch solutions, each HUMElab TABATA table incorporates a large format, HD, touch-enabled display. Through which users can carry out a wide range of exciting functions, such as playing complex multi-user games, ordering food, surfing the web and connecting with friends via social media, etc.
Supplied to HUMElab in 22, 32 and 42-inch formats, each sensor features elegant customised printed borders with sleek polished edges; offering an attractive bezel-less design. While antiglare, thermally-toughened 4 and 6mm glass allows for excellent readability in all light conditions as well as protecting the sensing elements from environmental and physical damage.
Zytronic's PCT™ technology is manufactured using a micro-fine metal matrix of sensing elements (only 10 microns in diameter) embedded into a laminated substrate.
Zytronic
www.zytronic.co.uk