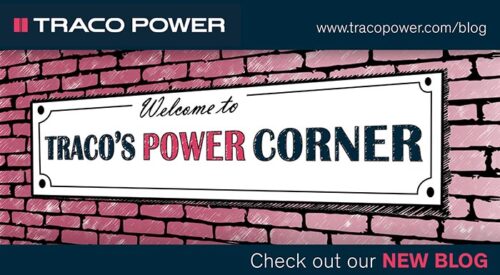 For tenured engineers, power converter datasheets are easily consumed, and many of the technical concepts are well understood. However, through Traco Power's regular interaction with students, it is clear that not all aspects of how power supplies are specified are fully appreciated and immediately comprehendible. With this in mind, Traco Power is launching a technical blog.
"Over the years, ever more parameters have been added to our datasheets to support the requests of our customers," states Florian Haas, Vice President of Marketing & Digitalization, Traco Power Group. "However, we've seen that these parameters are not always clear for engineering graduates and students. Our new technical blog is aimed at all those who wish to delve deeper into the datasheets and fully understand not only the entries they contain, but also why they are important to their application's design."
Regular technical insights on power supply topics
Drawing upon the Traco Power engineering team's years of experience and reflecting on the questions regularly posed to its engineers, the blog tackles everything from EMC basics and power converter specifications to application-specific challenges.
"We've gathered so many questions and answers over the years, it simply made sense to release this information so as to expand how we support customers," said Andreas Flühler, Head of Technical Services. "The technical blog enables us to provide engineers and students with answers to their queries more efficiently while also making our expanse of power converter knowledge available to everyone who visits our website."
The technical blog can be found here: https://www.tracopower.com/int/blog and is regularly updated with new blog posts.
For further information, please contact:
Florian Haas, Vice President of Marketing & Digitalization
Traco Electronic AG, Sihlbruggstraße 111, 6340 Baar, Schweiz
Tel.:      +41 43 311 45 11                      E-Mail:              info@tracopower.com
Fax:      +41 43 311 45 45                      Webseite:         https://www.tracopower.com